The evening was well-supported, with guests soon filling the gallery to capacity and causing a queue to form along the street.  Those attending included Victor Margrie CBE, co-founder of the course in 1963 and Professor Walter Keeler, one of the first members of course staff. There were also alumni from throughout the history of the course including Madoline Keeler, Janice Tchalenko, Sarah Walton, West Marshall, Peter Starkey, Ruth Franklin, Professor Christie Brown, Alice Mara, Kochevet Bendavid, Sylvain Thirouin and product designer Caterina Fadda of FaddaSantos and former course leaders John Houston and Kyra Cane. Other well-wishers included critics Tanya Harrod and Bonnie Kemske, design historian Linda Sandino and artists Richard Slee, Kate Malone, Elaine Wilson, Felicity Aylieff and Clare Twomey.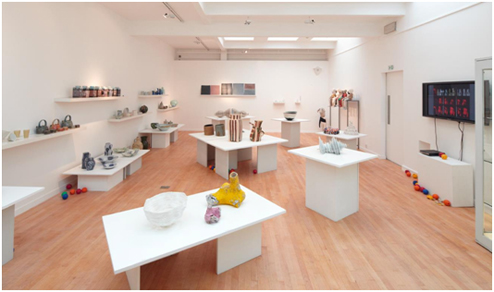 Photo credit:Sylvain Deleu
The show's curator, Tessa Peters, said 'I'm delighted with the way the exhibition has been received. So very many significant figures in ceramics are associated with the course and there's also some fine new talent!'
Steve Buck, Ceramics course leader said: ' It's  fantastic  to see so many types of ceramic work assembled in one place! The show conveys the mood of 'change' and the curator has done a great job at reflecting the different kinds of practice now associated with the course!'
The exhibition continues at Contemporary Applied Arts, 2 Percy Street, London W1T 1DD until 9 June 2012. Open Monday to Saturday 10.00 – 18.00. Closed Bank Holidays.
The final degree show of the BA Ceramics course, Material Matters, opens at The Rag Factory, 16-18 Heneage Street (Off Brick Lane), London E1 5LJ opens on 7 June 2012
The University has produced publications for both events.