To celebrate our past year, we have collated the top 10 highlights in the life of the University in 2014, in no particular order. We are looking forward to a similarly remarkable year in 2015.
We wish everyone a Merry Christmas and Happy New Year!
1. Celebrating our 175th anniversary at Westminster Abbey
Founded as Britain's first polytechnic in 1838, the University of Westminster marked the end of its 175th year anniversary celebrations with a ceremony at Westminster Abbey on 30 January 2014, conducted by The Very Reverend Dr John Hall, Dean of Westminster, and attended by the Lord Mayor of Westminster, Councillor Sarah Richardson.
Professor Geoffrey Petts, Vice-Chancellor of the University of Westminster, said: "The ceremony was the perfect way to celebrate our rich history at the heart of London. Over the last 175 years, the University of Westminster has evolved and adapted to changing needs and our students come from all over the world to study with us in the centre of this vibrant city."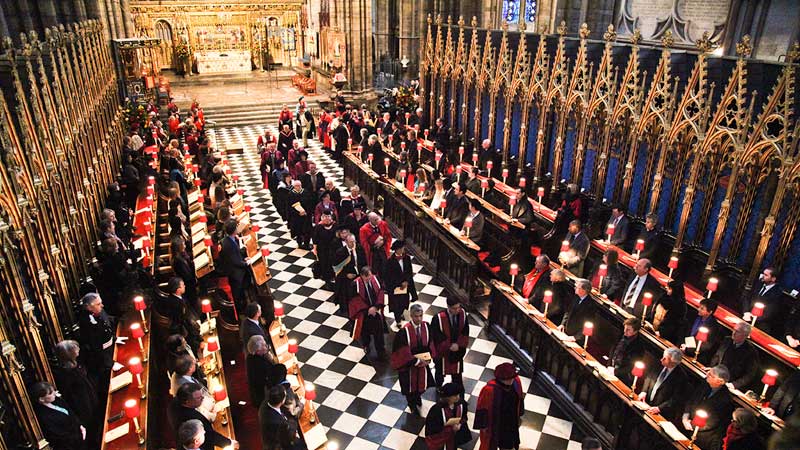 2. Westminster researchers being awarded £620,000 to support the fight against Ebola
The University of Westminster was awarded a research grant of £620,000 to develop a cost-effective, portable, battery-powered device which can test bodily fluids to diagnose individuals potentially infected with Ebola virus. The diagnostic device will provide results within 40 minutes - over eight times quicker than some existing laboratory techniques. The device is expected to be available for use as early as May 2015. Read more about the EbolaCheck project.
Dr Sterghios A Moschos, director of the Westminster Genomic Services Unit at the University of Westminster, leads the project and works in close collaboration with Dr Edward Wright, the renowned Ebola expert and senior lecturer in medical microbiology at the University of Westminster. 
The Westminster researchers are also part of a research consortium developing antibody therapies and vaccines that could be used to treat people already infected or prevent infection, respectively. Their involvement in the fight against Ebola generated overwhelming media interest and led to numerous radio and television interviews, including on BBC News and Sky News.
3. Work getting underway to restore the University of Westminster's Regent Street Cinema
The past year has seen work commence on a University flagship project to restore and reopen the birthplace of British Cinema at our Regent Street headquarters, the Lumière brothers' chosen venue to screen the first ever performance of moving images to a paying British audience in 1896. Having received the green light from Westminster City Council to go ahead with our restoration plans, our February announcement that the Cinema transformation could begin sparked much enthusiasm in the press and social media. After preparation works, the main contractor arrived on site and the Cinema became a hard-hat zone from July. In October we celebrated reaching the three-quarter mark in our £6 million campaign to deliver the capital build and educational programme, with just over £1.3 million to go fundraising is ongoing. Thanks to supporters and friends nearly half the seats in the Cinema have now been named, with all gifts going directly towards the cost of restoration and helping to secure the future of this historic venue. Planning is now well underway for a series of special opening events and we expect to announce the appointment of a Director of Cinema early in the New Year.
Members of staff from across the University have been involved in this unique and ambitious project, which will raise the profile of the University and be a fantastic opportunity to engage external audiences and showcase the work of our outstanding students and graduates.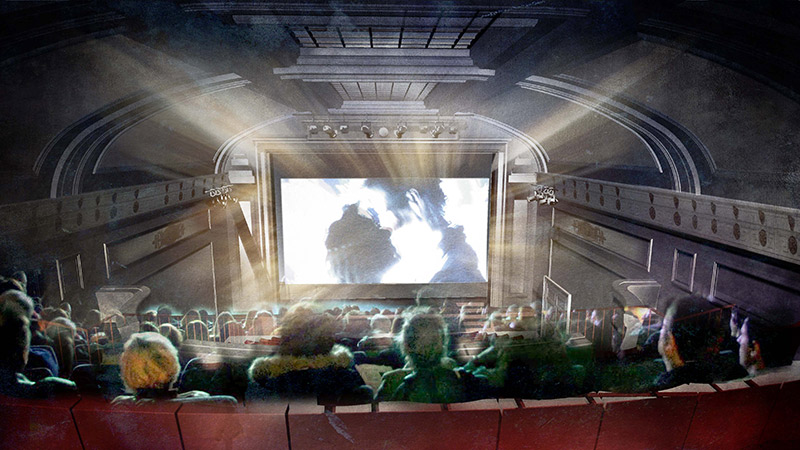 4. Joshua Oppenheimer and Professor Joram ten Brink scooping a BAFTA and an Oscar nomination for the Act of Killing
The hugely successful documentary 'The Act of Killing', directed by Joshua Oppenheimer and produced by Professor Joram ten Brink of the Media, Arts and Design faculty of the University of Westminster, won a BAFTA for Best Documentary and was nominated for an Oscar for Best Documentary Feature at the 86th Academy Awards ceremony. The film has also won a string of awards with more than 40 prizes in film festivals around the world.
5. Westminster alumni becoming the first British DJs to perform at the renowned Madison Square Garden in New York City
Two University of Westminster alumni have become the first British DJs to headline a high-profile sold-out event at the famous Madison Square Garden in New York on 18 October 2014. The DJ trio Above & Beyond, including Westminster graduates Jono Grant and Paavo Siljamäki, played a two-hour long session in front of an 18,000-strong audience. Above & Beyond celebrated the 550th episode of their Ministry of Sound radio show 'Group Therapy Radio' in style at Madison Square Garden, making "a piece of music history", as ITV News put it.
6. Major campus redevelopment projects getting completed
As part of a ten-year strategy to invest in the University of Westminster estate and create a world-class teaching and learning environment for Westminster students and staff, the Estates and Facilities Department successfully completed a number of key projects in 2014.
The University's Little Titchfield Street building saw the opening of a new 382-seat lecture theatre. At New Cavendish Street a new psychology lab was created to the cost of £2.26m, while a new office space was developed that is being heralded as the blue print for academic offices within the University. The £1.9m refurbishment of the library on our Marylebone campus came to completion in September 2014, creating a dedicated quiet study space and group work areas. Additionally, the premises at 29 Marylebone Road were successfully purchased that will help increase the provision of services the University of Westminster can offer including the New Institute of Advanced Studies.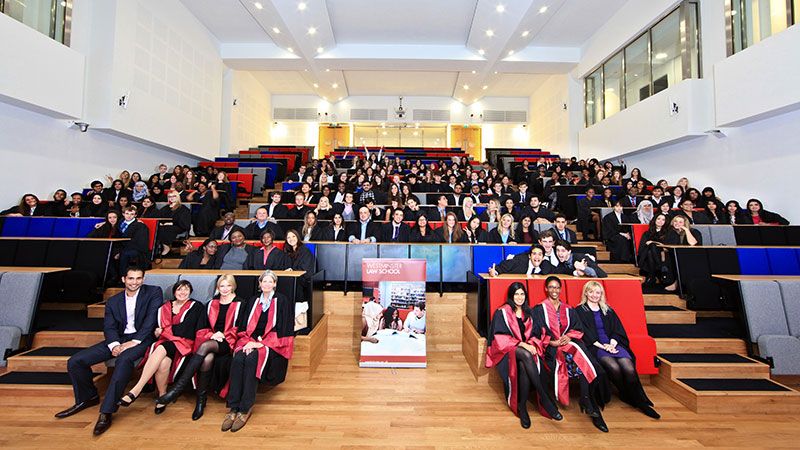 7. Launching Westminster Talks with high-profile industry names
The 2014/15 series of lectures were launched with a new name, 'Westminster Talks', and an exciting line-up of speakers who ensured that the Talks have been a huge success. Keynote speakers have included Jay Bhatt (CEO of Blackboard) talking about forces shaping the future of education and what teaching and learning will look like in the next decade and beyond, John Woodward (Managing Director of Arts Alliance) who walked the eager audience through the ups and downs of the history of the British film industry, Geoff Mulgan CBE (CEO of Nesta) addressing how universities and cities may work together to advance knowledge in its widest sense and, last but certainly not least, renowned fashion designer Dame Zandra Rhodes, who has designed dresses and costumes for the likes of Princess Diana, Freddie Mercury, Diana Ross and Helen Mirren. In her lecture 'Turning Points', she shared her inspiring life story with her audience, emphasising that her career "was not all plain sailing."
There are plenty of similarly exciting and informative evening lectures to come in the New Year, the next one being on 4 February 2015 with Jeremy Cobbold, Head of Logistics Retail at Marks and Spencer, who will provide a behind-the-scenes insight into some of the challenges and opportunities retailers face as they seek to expand on an international scale.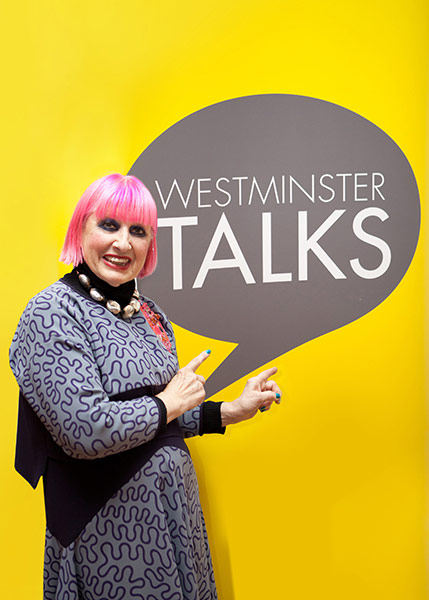 8. The National Student Pride coming to the University of Westminster
The University of Westminster was proud to be part of the ninth National Student Pride held in February. We were pleased to secure both the registration for the Pride march and the Student Pride Event drawing more than one thousand students to our Marylebone campus, to hear talks and panel discussions featuring Evan Davis, Lord Waheed Ali, Paris Lees and Lisa Power, among others. The National Student Pride was attended by more than 20,000 people from the diverse parts of the LGBT community. This was the first time the event came to London after five successful years in Brighton.
9. Westminster Fashion Design students and graduates making waves in Fashion Week season in London and New York
The University of Westminster had high-profile success at London and New York Fashion Weeks this year with both alumni and current students making an impact. Ashley Williams (BA Fashion Design, 2012) garnered global media attention when Rihanna and Rita Ora wore her designs and was described as "one of London fashion's fastest rising upstarts", while Louise Alsop (BA Fashion Design, 2013) showcased her work opting for a grungy and rebellious look. Over at New York Fashion Week, Nokia partnered with then third-year BA Fashion Design student Mary Benson for an opening showcase. Mary has had her designs worn by performer Kilo Kish, and has received rave reviews from magazine i-D that said her "mirrored and holographic designs were reflected, refracted and re-imagined at the whim and fancy of the camera wielding collective."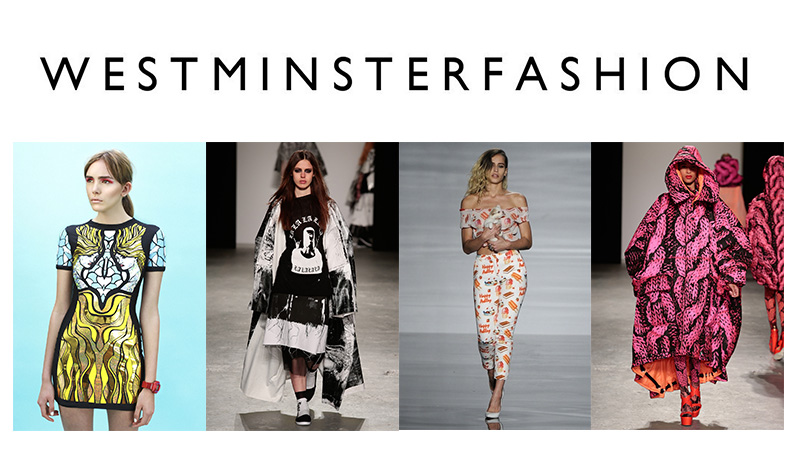 10. Receiving the Research Excellence Framework 2014 results
And last but not least, we confirmed our standing as a leading practice-informed University when the REF2014 results were published on Thursday 18 December.
The results confirmed the excellent depth and quality of our research and built on our previous strong performance in 2008.
Overall we submitted 13 Units of Assessment which reflected our key areas of research activity and highlighted our distinctive strengths. Among the highlights – achieving overall recognition for 'international excellence and world-leading research' are: English language and literature; Allied health; Media and communications and Art and design. Additionally, Politics, Area studies, Architecture and the built environment and Psychology and neuroscience were also highlighted for their internationally recognised quality.
Eight out the thirteen Units of Assessment were judged to be of at least internationally recognised quality - with four of the Units achieving world-leading and internationally excellent status.  Of particular note for its excellent impact outside academia were our case studies in understanding depression - which contributed to national clinical guidelines; internet fraud and subsequent public awareness of online dating scams; a BAFTA winning film which explored the impact of genocide in Indonesia and studies into the management of motion sickness.
These are fantastic results and a great way to end a prosperous year.