The three installations designed by students Tobias Power, Lorna Jackson, and Jon Leung are set to be constructed at the annual arts festival being held in the Black Rock Desert in Nevada, US. The festival will be taking place between 30 August and 7 September with designs adhering to the event's 2015 theme, 'Carnival of Mirrors'.
All three students are part of the University of Westminster's WeWantToLearn.net postgraduate design studio known for its study of parametric systems, which are based on algorithms. Over the course of four years, DS10 has submitted over 80 proposals to the Global Arts Grant of Burning Man and received a total of six grants including the ones for Fractal Cult and Shipwreck built in 2013 and Hayam in 2014. The studio receives constant support from the engineers at Ramboll RCD and Format Engineering led by Stephen Melville.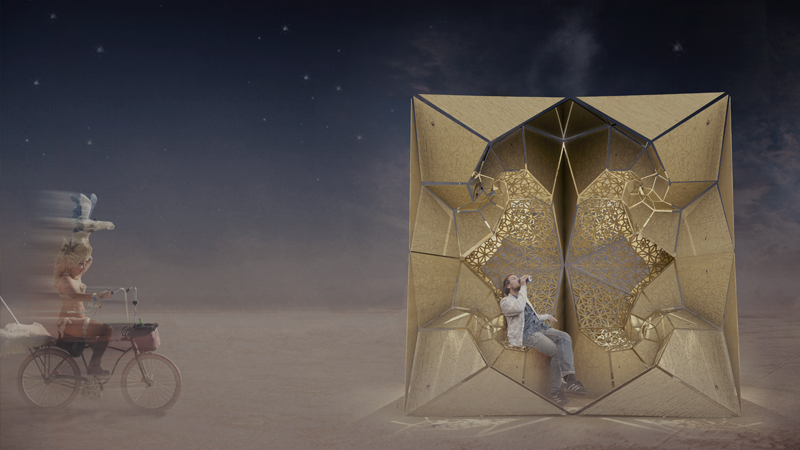 Lorna Jackson's Reflection is a piece designed to provide an intimate setting in which confessions, secrets and tales can be shared either openly, or with strangers through a semi-private screen.
"Reflection presents this year's burners with an intimate setting in which to share their innermost confessions, secrets and tales, with the option to do so both openly with other burners face to face, or retain the mystery of their identity by sharing with a stranger through the pavilion's semi-private screen," says Jackson.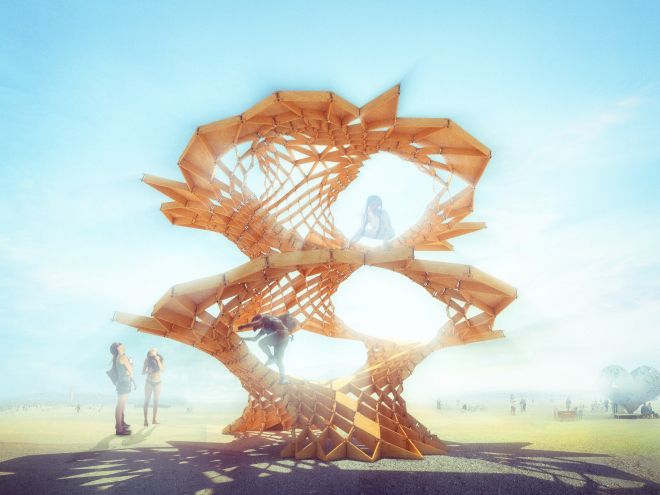 Tobias Power's The Infinity Tree will be a twisting and branching pavilion made from latticed timber, allowing festival-goers to climb up inside its sides to survey the desert camp.
Describing the idea for his design, Power said: "Born from a study into the twists and turns of all things helical in the natural world, a series of spiralling transitions are connected together with the assistance of complex numbers. These complex algorithms personify the intelligent intricacies of nature's creations and remind us of the beauty it can possess, something we often forget."
Lastly, Jon Leung's Bismuth Bivouac (pictured at the top of this page) is a structure inspired by the geometric growth patterns of bismuth crystals. The sides will spiral inwards, creating spaces for visitors to climb within and seek shelter from the desert sun.
"From a distance, the structure appears as a seemingly solid cube, but upon closer inspection, the internal spaces can be explored and utilised," says Leung.
WeWantToLearn.net has constructed three structures for the Burning Man Festival in the past two years. You can follow the progress and news concerning the Westminster DS10 studio on the WeWantToLearn.net blog page. The studio is currently seeking additional funding on crowdfunding platform Kickstarter.