The Colleges of Liberal Arts and Sciences, Design, Creative and Digital Industries and Westminster Business School held award ceremonies to celebrate and recognise student excellence.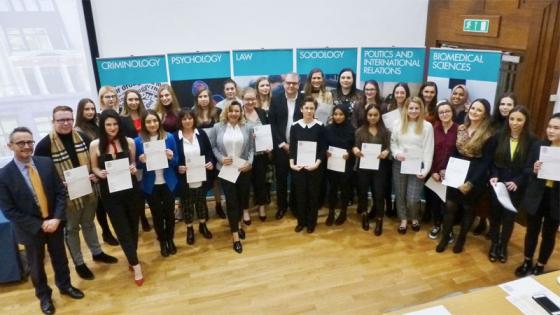 The Excellence Awards are granted to the highest achieving students at level four and five on each course to honour their hard work.
On 28 January, the College of Liberal Arts and Sciences celebrated their students' success with a ceremony introduced by Professor Andrew Linn, Head of the College. The event was attended by over 300 guests including students, friends, family and colleagues coming together to celebrate the hard work and dedication students put into their studies.
Professor Andrew Linn said: "Through hard work and commitment, our students have excelled in their studies and done themselves and those who teach them proud. This year, the College of Liberal Arts and Sciences saw over 100 of its students take part in a ceremony at Little Titchfield Street with friends and family to celebrate their outstanding academic achievements."
Criminology student Olivia Ponsford, who received an award, said: "I was really honoured to get this award and it pushed me further to keep up my work. Knowing that I can actually be recognised academically is something I haven't had before and it is a massive achievement."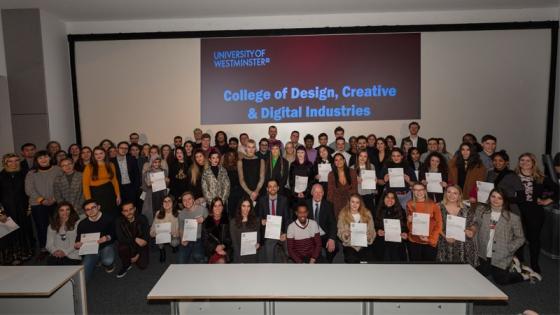 On 30 January, the College of Design, Creative and Digital Industries hosted their Excellence Awards ceremony praising the highest performing students for their enthusiasm and readiness to do their best in their studies. Two hundred students, families and friends joined Head of College Professor Jonathan Stockdale, the College executive and staff to celebrate the students' academic achievements. The event was compered by Head of Westminster School of Arts, Gregory Sporton, and students received their awards from both the Head of College and the Student Advice and Funding Manager, Steve Anderson. Awards were given out to 111 students across the College's full range of courses in the School of Architecture and Cities, School of Computer Science and Engineering, Westminster Schools of Arts, and Westminster School of Media and Communication. The audience saw a slideshow of student work and enjoyed a drinks reception afterwards.
Speaking about the event, Professor Jonathan Stockdale said: "The DCDI Student Excellence Awards were held recently in the Hogg Lecture Theatre at our Marylebone Campus and were organised to celebrate the outstanding achievement of our students.  Quintin Hogg would have been rightly proud both that the event took place in the theatre that carries his name, but of the collective ambition and achievement of those receiving awards on the occasion.
"Many students perhaps did not know of the existence of these awards, and were therefore surprised to be a recipient, but having achieved the highest academic outcomes in their previous year's study, we trust this will both encourage and help support further studies over the course of this year."
Journalism student Maria Campuzano, who received an award during the ceremony, said: "I am really happy to have been recognised for my efforts, it really shows that all my hard work has paid off. I am very grateful to the University for rewarding our achievements and encouraging excellence."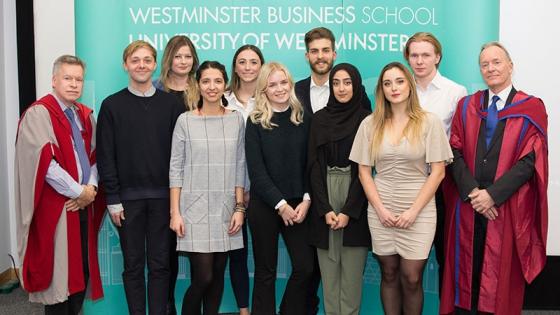 The final ceremony took place on Wednesday 13 February and celebrated the success of the best achieving students in Westminster Business School.
The event was hosted by Professor Malcolm Kirkup, Head of Westminster Business School, who presented 83 Excellence Awards.
Professor Kirkup said: "It is very rare to find a University and a Business School granting academic achievement awards part way through the students' journey. We are quite unique as an institution in doing this. We want to encourage students to perform to their very best potential and to recognise the immense effort that students' invest in their studies. In the months and years to come, our students' education at Westminster will reap its own awards in terms of a great career, but we want to acknowledge students' achievements along the journey too."