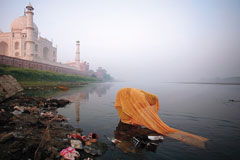 The competition is open to all current and past Westminster students. Entrants in the 2009 competition were invited to submit photographs within the chosen theme of "sustainability".
The winning photographer, Vladimir Kastyl, is a second year BA Photographic Arts student at Westminster.
"Agra is most famous for its Taj Mahal," said Vladimir. "Pictures of the Taj Mahal are very common from its front view, but I was more curious about what is around and behind this historical monument.
"Behind the Taj there is the river called Yumana. I met an Indian photographer there, who told me that the next morning there will be a kind of celebration. Indian women will come down by the river and will pray for the well-being of their husbands. The next morning I took the image."
Vladimir hails from the Czech Republic, but is based in London whilst he is completing his studies. He plans to complete a Masters degree following his undergraduate studies.
Second place in the competition went to Lorenzo Durantini, and third to Tim Sullivan.
-Ends-
Photo credit: westPHOTO/Vladimir