From 7 – 11 September, 70 Westminster undergraduate students and 2020 graduates had the opportunity to explore the current professional environment of the UK as part of the newly expanded Westminster Working Cultures (WWC) programme.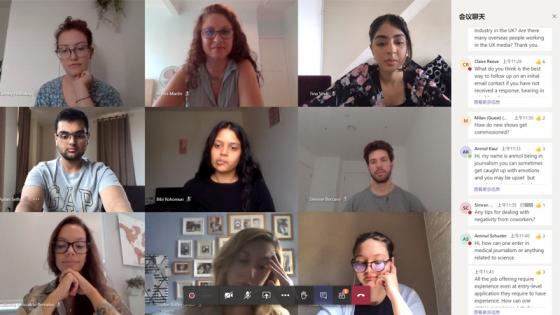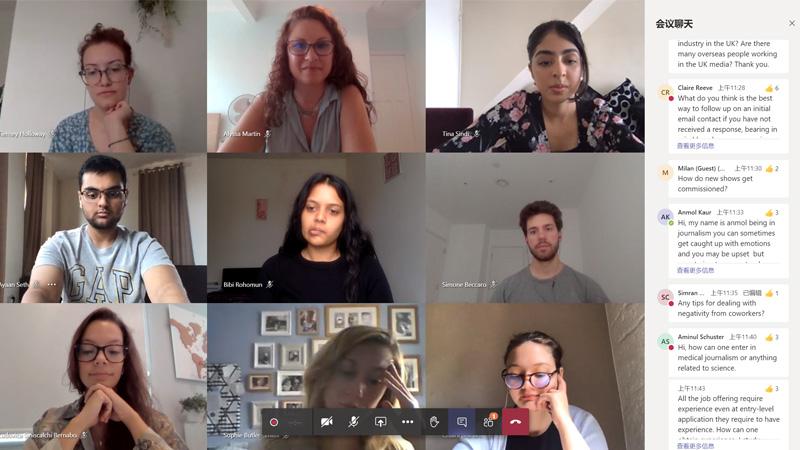 During the inaugural WWC UK programme, students met virtually with several Westminster alumni and partners to learn about the professional landscape in the UK. They explored a range of industries, including the tech industry and how it has adapted to the changing COVID-19 pandemic, the past-paced world of TV presenting and learned how to mix an interest in finance with a passion for the creative arts. The group also received valuable insights and advice on building resilience, how growth is an individual process, and the importance of talking about strengths and displaying enthusiasm.
This programme was made possible by the generous funding support from The Quintin Hogg Trust and was organised by the Westminster Working Cultures team within the Alumni Relations office.
The group began the week by meeting Dan Figueiredo, Cognitive Science graduate and Senior Partner CTO at Microsoft, along with several young employees in a fireside chat to hear about their experience working at Microsoft. Dan shared his professional journey from being a Westminster student to his current role at Microsoft, and encouraged students to stay curious and continue to learn. The students also learned about the company culture through the young people's experience and how they are all able to follow their personal interests in addition to their day job.
Students also had the opportunity to delve into the world of TV and radio through a session with Kait Borsay, Journalism graduate and News and Sport Broadcaster for Times Radio and Director of Offside Productions Media Ltd. Kait shared her experience working with a range of media organisations, discussing how she navigated the world of sports broadcasting as a woman and how she maintains her wellbeing throughout her work.
Talking about her experience taking part in the programme, Kait said: "It was a pleasure to speak to Westminster students for the WWC programme – what a fabulous idea it is! It was really great to see so many students engage with intelligent questions to get the best out of the session. I really enjoyed the experience too – sharing our pathways is so important, on both sides."
Liam Healy, Senior Vice President and Managing Director at world leading board-management software company Diligent Corporation, inspired students with considered and practical advice learned through his career. He encouraged students to focus on their personal growth and what it means to them, gave interview tips and explained what he looks for in an interview candidate.
Students gained insights from a global perspective on the current working environment with sessions from Mo Abudu, Manpower Studies graduate and Entrepreneur and Founder of EbonyLife TV in Nigeria, and Lorenzo Evans, Director of Finance and COO of the Washington Performing Arts in Washington DC.
Highlights also included sessions with The Howard de Walden Estate who shared insights from a range of different areas of their work and their focus on community engagement, Javier Calvar, Applied Social Research Graduate and Senior Director at Ipsos, who provided inspiration and motivation for achieving goals, and Jamaine Obeng, Music Informatics graudtae and Core Audio Software Engineer at Apple who encouraged surrounding yourself with smart people and to always be open to learning.
Talking about the programme, Computer Science BSc student Asad Naeem said: "Westminster Working Cultures UK was a tremendous experience to be part of in which I was able to extract so much valuable information about skills, ethics and life in general, and I am greatly thankful to the WWC team for organising this amazing programme.",
Professor Alexandra Hughes, Deputy Vice-Chancellor for Global Engagement and Employability, said: "Westminster Working Cultures is a flagship employability programme at the University, and the development of a UK strand to complement the well-established WWC International programme is timely and very welcome. It was the greatest pleasure to meet the students on the inaugural WWC UK programme, and I look forward to seeing how WWC UK goes from strength to strength."
The next WWC programme will take place in April 2021. With students from 150 countries, staff from across the world and a highly international alumni community, the University of Westminster embraces global engagement in all its forms.
Learn more about Westminster Working Cultures or email [email protected]