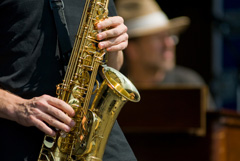 The Economic Value of Jazz 2, announced last month, highlights the economic problems jazz musicians face, with many venues closing over the last five years. Music sales income has also declined, with only a handful of top musicians able to secure 'big label' recording contracts.
Report co-author Mykaell Riley said:
"This report shows just how difficult it is for jazz musicians in the UK to make a decent living. Our research found that the situation has got worse in the five years since we first studied the UK's jazz economy."At a time when the standing of UK jazz in the world has seldom been higher, the majority of jazz musicians in this country have to take teaching jobs to survive."
The research was launched at an event, entitled Jazz and The Beeb: a Love Supreme or Kind of Blue, organised by MusicTank, a University of Westminster-based music industry network.
The event also featured the release of a new report on whether the BBC is doing all it can to support jazz. The Jazz Service report, The BBC – Public Sector Broadcasting, Jazz, Policy and Structure in the Digital Age, showed that although UK jazz has gone through a resurgence in popularity in recent years, it now faces an increasing struggle to get played on the BBC.
In his keynote address, report author Professor Stuart Nicholson said that historically the BBC had developed, supported and nurtured UK jazz talent, providing a platform for performance, broadcast, recording and composition.
However, that situation has altered dramatically, culminating in last year's BBC axe for its Jazz Awards and annual Big Band Competition.
As well as Professor Nicholson, the event panel featured veteran radio producer Peter Schultze, responsible for over 1600 music radio programmes and concerts on German public sector radio, BBC Radio 3 Controller and Proms Director Roger Wright and Lewis Carnie, Head of Programmes BBC Radio 2 and 6 Music.
The Economic Value of Jazz 2 was written by co-written Mykaell Riley and Dave Laing.
ENDs