As part of the Skills and Part-Time Jobs Fair, students could talk face-to-face to and could apply for jobs with as many as 27 employers that included a mix of high profile high street brands and part-time employers form a variety of sectors such as IT, technology, care, tutoring, events and hospitality, to name but a few.
Apple, McDonald's, Radisson Blu Portman Hotel, Premier Inn, PizzaExpress, Paperchase, Greggs, TOPdesk, American Eagle Outfitters, AllSaints, JAM Staffing, AP Security, Hartwig Care, Off To Work, Union Income Benefit, Re Hospitality, NCS The Challenge, Metro Hospitality, GLL, Explore Learning, Delaware North, China Exchange, Bluebird Care Westminster, Big Fish Tutors, BaxterStorey, Admiral Group – Hospitality Sectors and Able Tutors were all among employers who came to the University's Marylebone Campus in central London to recruit Westminster students and alumni.
First year Business Management BA Honours student Ivan Frederick, who attended the careers fair, said: "I really liked that there were so many employers and you could find really interesting part-time jobs and get good work experience for your CV. It was also very good because you can get a bit of extra money, for having fun in London and enjoying the city as well. I applied for some hosting jobs because it is very flexible and I hope I will get it." Ludovica Ludovici, second year Law LLB Honours student, also visited a number of employers at their stand and said: "I would recommend this to all first year students. You totally don't want to miss it! I really look forward to getting accepted to the jobs I applied for."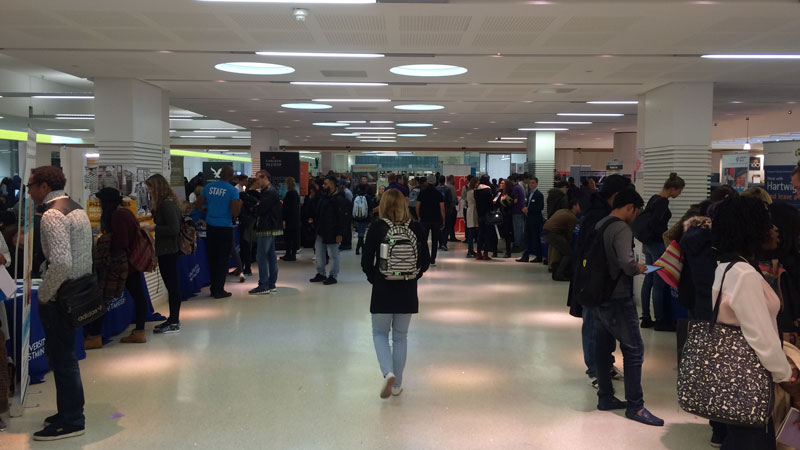 While making contact with recruiters, around 800 students attended eight workshops throughout the afternoon learning about how to use LinkedIn to kickstart their careers, how to tackle CVs, cover letters and job interviews, and about the power of networking, volunteering and placements. A session held by Dr Katherine Eames, Project Coordinator for the Mayor's Low Carbon Entrepreneur competition at the Greater London Authority, advised students on how to kickstart a start-up business and how they could win £20,000 by coming up with a low carbon business idea.
Speaking of the event, Petar Mladenov of Premier Inn said: "I want to say it's been an absolutely great event, there's been a lot of students here with great potential!"
Monica Deshpande, Head of Employability and Learning Support in the University's Career Development Centre, reflected on the success of the event by saying: "This was an excellent event, well attended by students, alumni and employers. We have had great feedback from students on the friendly and engaging atmosphere and the ample opportunities to network. We are very grateful to our alumni and employers for offering part time work opportunities and for their enthusiastic participation in skills development workshops. A big thank you to the CDC team and colleagues across the University without whom this event would not have been the rewarding one it has been!"
In addition to the Skills and Part-Time Jobs Fair, over the next few months the University will be welcoming over 150 employers on campus to promote graduate, part-time and placement opportunities to students and recent graduates. Westminster students can learn about the careers events that are the most relevant to their field of interest and enhance their employability through Engage, the University's interface for jobs and events.