Doug Specht, Senior Lecturer at the Communication and Media Research Institute, was interviewed on Sky News and LBC Radio to discuss the unprecedented number of fires raging across the Amazon forest.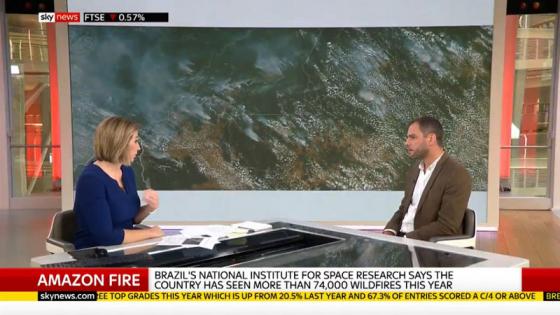 In an interview with LBC Radio, Specht said that the Brazil's National Institute for Space Research recently detected 74,000 separate fires by mid-August, an increase of 83 per cent compared to the same period last year, which is expected to rise further.
He also mentioned how this pressing issue could be critical not only for the world's wildlife but also for human existence since the forest provides around 20 per cent of the world's oxygen. Furthermore, this is the kind of forest that does not easily grow back, requiring long periods of time if it does.
Speaking about the Brazilian President Jair Bolsonaro's political approach towards the fires, Doug said: "Bolsonaro's comments around NGOs are wilfully misleading. These fires are part of a wider socio-political issue. They have been caused by nationalist politics, xenophobia and the Brazilian President's push back against climate change science. Bolsonaro has been cutting budget for forest protection, putting pressure on indigenous populations and hugely encouraged the expansion of extractive industries and agribusiness, ahead of environmental protections." 
In an interview with Sky News, Doug said: "This year we have seen a huge number of fires in the Amazon forest and while it is circumstantial, we can also look at the laws that have been changed in Brazil in the way that they have reduced the forest protection. Bolsonaro has been involved in politics for a while. Before becoming President, he suggested that there should not be an inch of land left for the indigenous populations. He's also previously called for the regulation of forest tree activities for increase mining."
Read more about Doug Specht's interviews for Sky News and LBC Radio.