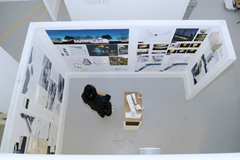 The Architecture end of year exhibition opened on 17 June with a wonderfully well-attended opening celebrating our students' achievements during the past academic year. Visitors have continued to enjoy the excellent work on display and the exhibition will now remain open until Sunday 11 July. Once again we would like to thank our exhibition sponsors Fletcher Priest Architects for their support of the exhibition and the accompanying catalogue.
The Graduate Reception held in the studios on 24 June was also a great success and saw the inaugural presentation of the Shoaib Mahmad Rawat Award to 4 Diploma students - made possible by the generous donations in memory of a former student from his family, colleagues at Grimshaws and fellow students, friends and teachers.  We were delighted that Shoaib's family were able to join us to present the awards and that Jolyon Brewis, Managing Partner, could join us as a representative from Grimshaws, Shoaib's practice.
Congratulations to the winners; 1st prize:  Jonathan Schofield, 2nd prize:  Jonathan Walker, Joint 3rd prize:   Elizabeth Blundell, Will Laslett.
Thank you to all those who contributed to phase one of this campaign which raised over £9,000 to make these awards possible. Please help us continue these prizes in memory of Shoaib via the online giving site: www.justgiving.com/shoaibrawat.