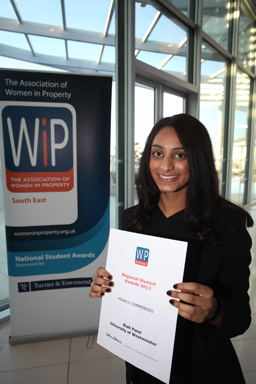 Real Estate BSc Honours student Riah received a 'highly commended' in the South East region final of the Women in Property (WIP) National Student Awards. Now she wants to build on that.
Universities are invited to nominate a second year student studying on a built environment course for the awards and Riah was put forward. Judges were impressed by her presentation and knowledge on legal studies and tort law, with one - Bouygues, an internationally recognised French construction company establishing itself in the UK – even offering her an internship.
"This commendation has opened up possibilities in terms of career prospects for me and made me so much more employable," says a thrilled Riah, who also secured an internship at Savills, a leading UK property company. "These opportunities have enabled me to gain a better understanding of the differences and similarities between the property and construction industries, and I have been able to work closely with industry professionals.
"Staff at Westminster have been phenomenal. I have a good rapport and relationship with the lecturers who are hands on. The commendation has given me a lot of confidence. The opportunities have made me more enthusiastic about making the most of my time at university. I have more of a drive to succeed and am more passionate."
WIP is a national organisation that seeks to enhance the profile of women in the property and construction industry, providing a forum for business opportunities, exchanging views, networking and encouraging aspiring talent.
Jane Wright, Head of Department of Property and Construction at Westminster, has been involved with WIP for a number of years. "Apart from what we think of as 'property and construction' professions, WIP includes lawyers, accountants and engineers who are involved in the industry," explained Jane.
"WIP offers a fantastic opportunity to explore potential future careers, work placements and generally get to know employers. WIP also run a well-established mentoring scheme which can help young women take advantage of every opportunity and help create new ones!"
A comment Riah definitely agrees with. "Before I wanted to concentrate on the valuation and legal aspects, but now I have been presented with a variety of different opportunities. I am very lucky to have been given this opportunity."