Richard Boden, award-winning television director and producer specialising in comedy, has been named Honorary Doctor of Arts at the University of Westminster's College of Design, Creative and Digital Industries' 2019 graduation ceremony which took place on 9 July at London's Royal Festival Hall.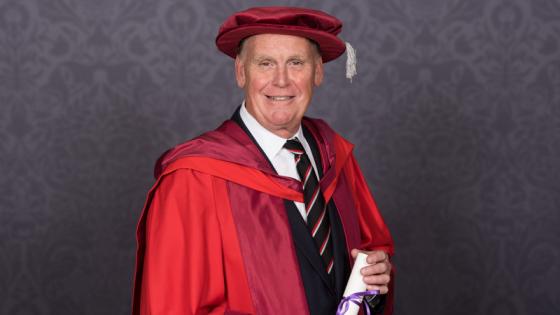 The University recognised Richard Boden for his work in television and his contribution to education. Boden is a member of BAFTA, of the Royal Television Society and of the Directors Guild of America.
Beside several nominations, he has won three Television BAFTAs as director and producer of 'Blackadder Goes Forth' in 1989, 'The Sketch Show' in 2002 and 'The IT Crowd' in 2009.  For 'Blackadder Goes Forth' he also won the Best Situation Comedy Award from the Royal Society of Television in 1990. He has been a member of several juries, including BAFTA, the Golden Rose of Montreux and the Emmy Award's pre-selection jury.
Boden is a visiting tutor at the National Film & Television School. He has also lectured and supported students at Exeter University and he was a governor at the London Oratory School for over ten years, acting as its Vice Chairman for a number of years.
Richard is a graduate of the University of Exeter. He started his career at the BBC as a floor assistant, working on programmes such as 'To the Manor Born'. He became an Assistant Floor Manager, a Light Entertainment Production Manager, and both a producer and director in Light Entertainment. He then became Head of Comedy at Carlton and Central TV, and a director of Columbia TriStar Carlton UK Productions.
In his acceptance speech, Richard Boden said: "I am delighted and honoured to accept this award and hope this may be the start of a long-term relationship with the University."
Professor Jonathan Stockdale, Head of the College of Design, Creative and Digital Industries, said: "Richard's outstanding contribution to comedy is undeniable; over the last 40 years he has helped create some of the most memorable TV series and on-screen moments. With his energy, creativity and commitment to nurturing talent, he has pushed boundaries and been instrumental in taking sitcom into new territory, and in doing so, has helped to ensure its future."