John Swannell has been named Honorary Doctor of Letters at the University of Westminster College of Design, Creative and Digital Industries' 2019 autumn graduation ceremony which took place on 11 November at London's Royal Festival Hall.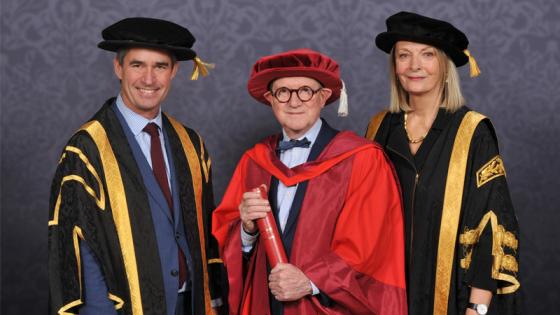 The University recognises Swannell for his services to photography.
John started his career aged 16, working as an assistant at Vogue magazine. He assisted the renowned photographer David Bailey for four years, before setting up his own studio at the age of 24. 
He spent the next 10 years travelling the world and working for magazines such as Vogue, Harpers & Queen, Tatler, and The Sunday Times. During that time, he developed his very distinctive, individual style in both fashion and beauty photography.
Although best known for his portraits, he also specialises in fashion, nudes and landscapes.
Swannell is regarded as one of the biggest names in British photography. He photographed HM The Queen for her Golden Jubilee and The Princess Royal for her 40th and 50th birthday portraits and, in 1994, was personally commissioned by Diana, Princess of Wales, to photograph her with her sons. Famous sitters include Elton John, Judi Dench, John Gielgud, Kim Cattrall, Sienna Miller and Dame Helen Mirren, amongst many others.
His images have appeared in leading publications the world over, and he has published six books of his photographs, including John Swannell Nudes 1978-2006, which was also the title of his last exhibition. His work features in permanent collections at The V&A, The National Portrait Gallery in London and The Museum of Modern Art in New York.
Lady Sorrell, Chancellor of the University of Westminster, said: "This University has had a remarkable, pioneering history in photography since 1882. So I am particularly delighted to give this citation for a photographer, John Swannell."
Learn more about the University of Westminster's Honorary Awards.