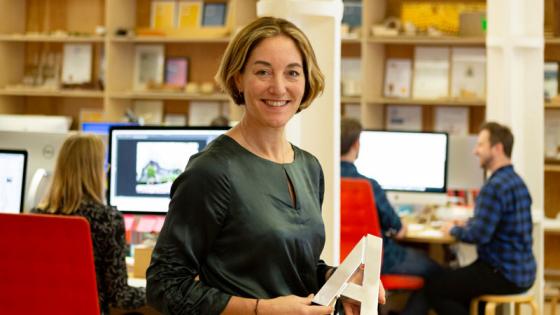 The prestigious award, which was presented at a formal ceremony on 1 May, recognises Professor Morgan's work as an advocate of raising awareness of the role that architects play in creating a better quality built environment for all. She has also proactively raised awareness of the place of women within the profession, while making a dynamic difference to the public perception of architecture as a whole.
Alongside Professor Morgan's work as a Director of architecture firm dRMM, she is widely involved in a number of advisory roles including Chair of the Independent Design Panel for High Speed Two; National Infrastructure Commission (NIC), Commissioner and Chair of the NIC Design Group and Mayor's design advocate for the Greater London Authority's 'Good Growth by Design' agenda. She is also non-executive director of the Major Project Association and most recently, non-executive director of U+I to oversee delivery of their commitments to community engagement in public-private partnership (PPP) projects.
These roles have been recognised alongside her involvement in providing the next generation with a more powerful voice, through NIC's Young Professionals Panel and her professorship at the University of Westminster. Chosen as the inaugural winner out of several candidates, the judging panel said that among an impressive field, she stood head and shoulders above the other contenders and had set a high bar for future years to come.
Sharing her thoughts on her achievement, Professor Morgan said: "I'm honoured to have won the award and be recognised for my role in championing the importance of good design at the highest political level. I believe it is incumbent on all of us within the profession to help deal with some of the big issues of the day. We need architects as problem solvers to be part of these conversations."