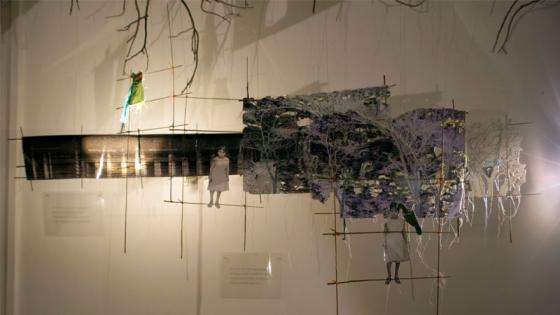 The iteration of Animistic Apparatus will involve several installations, an overnight outdoor film screening and two seminars between 19-22 September. 
Professor Ingawanij's Animistic Apparatus draws inspiration from Southeast Asia's ritualistic genealogy of artistic practice and expression. This curatorial project asks what if contemporary film screenings and installations were reimagined as if they were rituals offered and addressed to non-human beings; what if artistic ecology placed humans as precarious makers of offerings, rather than as authors of work or producers of self-expression; and what could artistic practices and exhibitions be if humans were situated as one of the mediating parts of the apparatus and ritual of communication with nonhuman beings, and human audiences were an incidental part of the enactment and display of art, neither invited to nor excluded from the ritual or the event?
The project forms a part of Professor Ingawanij's British Academy Mid-Career Fellowship and is supported by an Asia-Europe Foundation grant and the Centre for Research and Education in Arts and Media (CREAM) at the University. The project's iteration in Berwick is curated by Professor May Adadol Ingawanij with CREAM Research Fellow Julian Ross and produced by Thai curator Mary Pansanga.
The Berwick Film & Media Arts Festival is one of the UK's leading festivals for new cinema and artists' moving image. Participating artists for Animistic Apparatus include Thai artist Apichatpong Weerasethakul, the 2019 Artes Mundi prize recipient and the 2010 Cannes Palme d'Or winner for his film Uncle Boonmee Who Can Recall His Past Lives, and Filipino filmmaker Lav Diaz, who has won major awards for his films in recent years at Venice Film Festival, Berlinale and Locarno Film Festival. Other participating artists include Malaysian artist Chris Chong Chan Fui, Thai artist Tanatchai Bandasak and the Singapore-based The Migrant Ecologies Project, led by Lucy Davis, Professor of Artistic Practices at Aalto University.
CREAM PhD Candidate George Clark will also take part in the festival with his installation Double Ghosts, a listening event Bangkok Sounds in collaboration with Tanatchai Bandasak, and a performance with Taiwanese collective lololol. Julian Ross will be part of the Berwick New Cinema Competition jury during the festival.
Speaking about the opportunity, Professor Ingawanij said: "It is a privilege to be presenting Animistic Apparatus at Berwick Film and Media Arts Festival. BFMAF is widely regarded as one of the most forward thinking and outward looking festivals for artists' moving image in the UK, and its values strongly resonate with the research project. This is an exciting occasion for exhibiting the works of visionary Southeast Asian artists. I am delighted to have this opportunity to strengthen CREAM's global and regional engagement activities linking the University of Westminster to an exciting network of researchers, artists, curators and cultural producers in Southeast Asia, Northeast England and Scotland."
Learn more about the Film, Television and Moving Image MA course.