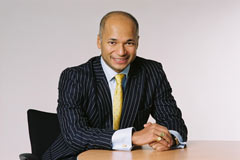 The scholarship will cover tuition fees for two candidates, who will be selected through a competitive process, based on financial need, aspirations in the field of study and academic excellence.
The scholarship has been made possible through the generosity of Moorad Choudhry, who graduated in 1988 with a BA (Hons) in Social Sciences from the Polytechnic of Central London, the University of Westminster's predecessor.
Professor Choudhry is a finance specialist and author whose career has spanned the banking industry and academia.
"Coming to study at Central London Poly, as it was then known, was one of the better decisions I've made in my life. I especially remember the friendly atmosphere and the excellence of the academic staff. I'm proud to be associated with the University of Westminster," he said.
''We are delighted at this new scholarship opportunity for our undergraduate students from the UK. It comes as a great encouragement and support at a crucial point,'' said Professor Jean Woodall, Dean of WBS.
''This scholarship will hold a special place as it will be one of the first of the hundred new scholarships we are hoping to establish in the coming years for the benefit of our students,'' said Colin Matheson, Director of Scholarships at the University.
For more details on scholarships please visit the scholarships web pages.