The deadline to enter Westminster's Big Idea Competition, the new contest to showcase students' entrepreneurial spirit and potential, has been extended to Friday 15 February with a new £2,500 Grand Prize added to the prizes line-up to be won.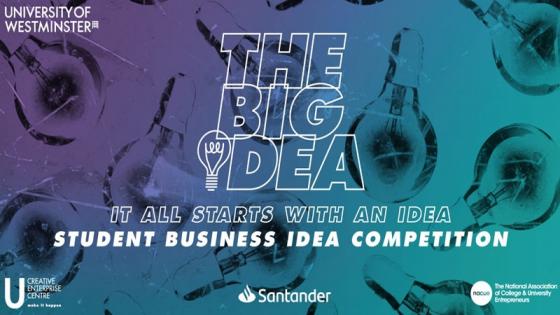 The prize fund totaling £7,900 will now be divided into one £2,500 winner, four £500 winners, eight £250 runner-up winners and four £350 viral idea winners, awarded to the ideas that receive the most votes. Students must complete an online application form by 15 February to have a chance of winning one of the several prizes.
To enter, students are asked to upload a one-minute video pitch with their business idea or concept that must follow one of the four categories: Digital and Tech, Maker and Inventor, Social or Environmental Impact, and Freelance. In order to advance onto the next stage, students are responsible for promoting and marketing their idea, and encouraging their peers to vote for it.
Open to all current students, the competition has been organized by the Creative Enterprise Centre in partnership with the National Association of College and University Entrepreneurs (NACUE) and is sponsored by Santander Universities UK.
Chandresh Meghji, Deputy Relationship Director at Santander Universities UK, said: "We are really proud to be able to support The Big Idea initiative. Our mission is to help people and businesses prosper and with initiatives like this, we can help those ideas become a reality.
"Our relationship with the University of Westminster goes back to 2010 and since then we have supported numerous programs and many students. We are really looking forward to seeing the best ideas come through and helping these businesses prosper. Good luck!"
The competition encourages students to explore and showcase their imagination and ability to respond to real problems, trends and needs of our modern-day society rather than focusing on finding the most developed idea or business concept.
Ideas across all fields and sectors are welcome, such as the next viral mobile app, a service for other businesses, a fashion collection, film, music festival, exhibitions, art collection, book, magazine, a community or charity project or a freelancing or consulting business.