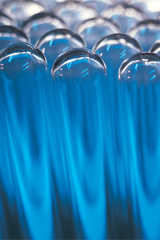 Available as a four year integrated Master of Engineering (MEng Biochemical Engineering) programme or a three year Bachelor of Engineering (BEng Honours Biochemical Engineering) programme. This is a new programme designed to address the skills required for tomorrow's biochemical engineers. Prospective students will have the opportunity to enrol through the UCAS clearing system.
The School of Life Sciences has well equipped laboratories that were extensively refurbished this year. Specialist laboratory equipment and software packages are available for biochemical engineering students ensuring that the programme is relevant to industry needs whilst providing students with a challenging and rewarding course.
UCAS institution code: W50
UCAS course codes: MEng - H813, BEng - H811
Typical A Level offer for September 2010 – BBB (to include Maths and one Science subject).
Click here to view a feature from the Courses Extra magazine (May 2010) on Biochemical Engineering
For further information please visit westminster.ac.uk/biochemicalengineering
or contact the Course Enquiries team, call 020 7915 5511 or email [email protected]