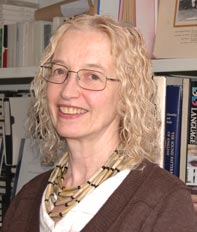 Patricia, who has worked at Westminster since 1975, has an international reputation as a practicing phonetician, teacher of phonetics and researcher in phonetic pedagogy.
A principal lecturer in the Department of English, Linguistics and Cultural Studies within the University's School of Social Sciences, Humanities and Languages, Patricia is described by the Higher Education Academy (HEA), which awards the annual Fellowships, as making "skilful use of new technologies to enliven what students often find dull".
"Her development of student-centred, enquiry-based learning-through-assessment strategies has demonstrably enhanced success," adds the HEA.
Patricia said of her award: "Coming near the end of a long career this is both an astonishing and proud moment – higher education's answer to winning Wimbledon.
"Student achievement and feedback has always persuaded me that a least some of what I do is right, and invitations to speak about this suggest there is wider interest, but the NTF award is a mandate that will enable me to continue exploring my passionate interest in the learning process and the contribution to that process that we can make through teaching, facilitating and assessing learners."
The award winners were chosen from nearly 200 nominations submitted by higher education institutions across England and Northern Ireland and each will receive an award of £10,000.