James Reeves and San Kim, both students from the Menswear MA course at Westminster, were selected to work with Adidas and PHVLO on a capsule collection of designs.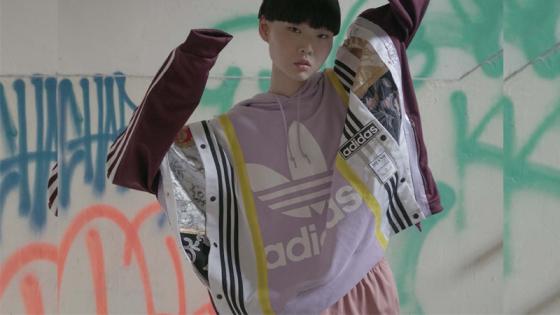 The collaboration with Adidas and PHVLO involved students co-creating a capsule collection from the Adidas Originals classic adicolor clothing in a functional couture project.
The first collaboration with designer brand PHVLO saw the students combining sustainability, functionality and fashion to reimagine some of Adidas's classic pieces with new features. The collection was launched in Hong Kong and all designs will be showcased at the Adidas Originals flagship store until early August.
Menswear MA student James Reeves' collection transformed adicolor pieces into functional hoodies, jackets and trousers using fashion waste combined with heat bonded duct tape to tie together different garments. The collection was influenced by the exuberant style of Christian Lacroix contrasted with the aesthetic of the 90s London garage scene.
Speaking about the experience, San Kim said: "It was such an amazing experience that we could work with PHVLO and Adidas. We started designing at Westminster and then they paid for us to be flown to Hong Kong to work in the PHVLO Atelier for a week."
Professor Andrew Groves added: "Partnering with PHVLO was a fantastic opportunity to work with a forward-thinking company that is addressing issues of sustainability in a very creative and practical way. The experience for both James and San was incredible, and we are looking at how we can partner with PHVLO for the next year and open up this fantastic opportunity to more students."
Find out more about the Menswear MA course offered at the University of Westminster.