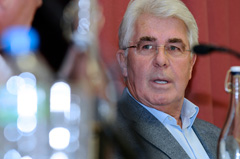 The panel was made up of Clifford, whose past clients include Jade Goody and Rebecca Loos; Trevor Beattie, an adman whose controversial campaigns marketed Wonderbra and French Connection; Julian Linley, the former editor of HEAT magazine and public relations guru Mark Borkowski, author of a book on Hollywood fame.
The 'Celebrity Brands – Desire, Dollars and Danger?' debate, held in the Old Cinema at the University's Regent Street building, was chaired by Trevor Morris, University of Westminster Visiting Professor, and co-author of 'PR – A Persuasive Industry?'
"The sell-out audience of 350 was somewhat taken aback when Max Clifford took several phone calls whilst on stage", said Trevor.
"He claimed one was from Simon Cowell, though some think it was a classic Clifford set-up. When criticised from the floor for his 'rudeness', Clifford replied along the lines of I'm not being paid for this, but my clients pay me a lot of money."
The debate was followed by a drinks reception sponsored by the Public Relations Consultants Association.
Ends