He also delivered a performance lecture which examined the future of the web and mobile phones. Mr Elia, a 20-year veteran at Reuters is responsible for pioneering journalists adopting digital mobile technology to push content.
Mediastorm
Later in the day, the founder of arguably one of the best multimedia agencies in the world Mediastorm, made an appearance by skyping into lectures.
Students had a Q&A lasting just under an hour, in which founder Brian Storm gave answers to his philosophy, how to intern with his company and what he was looking for from would-be multimedia journalists.
"I would say, Passion, Passion, Passion" he said is the key, urging students to seek to innovate and change the status quo.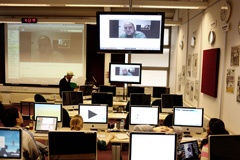 The University of Westminster's Online Masters students are presently 6 weeks into a 12-week module learning everything from building a site from scratch using CSS, HTML and Flash, experimenting with Java script, and SEO.
Students call it going down the "rabbit hole", as it involves evolving forms of journalism and an experience that according to MAJI student Avinash Kalla, "the intensity and team work is awesome but its great fun".
Photos courtesy of Valeria Testagrossa