Matthew's final studio project, 'Street Tree Pods' are sustainable treehouses originally made from wood and designed to merge with trees, that provide homes on London's streets, while also alleviating pollution levels.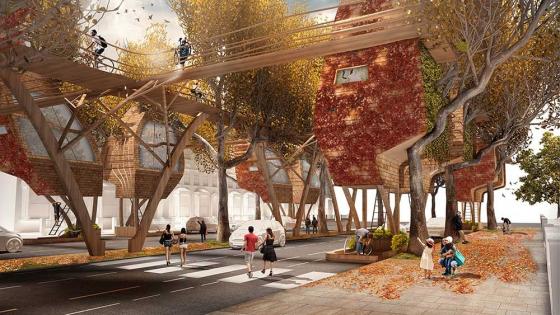 Inspired by the natural phenomenon of inosculation, in which branches, trunks and roots of two trees grow together, the self-sufficient urban tree pods merge house and street tree together. They facilitate humans' innate attraction towards nature, along with focusing on sustainability.
Aiming to ease London's housing crisis, it intends to build a system based on connected communities that create housing that has a symbolic relationship. Particularly targeted at young professionals, university students, first-time buyers, homeless individuals and people in the process of relocation, it also offers the option to plant a 'seed' for a child in the future. These homes provide a cheaper, more sustainable option for London residents
Trees have proved to decrease obesity, reduce certain health risks and aid mental health behaviour. In this case, the design of the pods responds to the uniqueness of each tree, making every home entirely bespoke to the owner and creates a subtle varied architectural landscape.  
Talking about the project, Matthew said: "Street Tree Pods aims at introducing the urban forest into people's lives, building on cognitive and psychological benefits of natural scenery and imploring people to realise street trees as not just a luxury, but as a vital piece of infrastructure."
Matthew's project ran from January-May 2018. During his time as a Masters of Architecture (MArch) (RIBA Pt II) student, he was part of Design Studio 10 (DS10), led by Toby Burgess and Arthur Mamou-Mani. It encourages experiments with digital tools for fabrication for a joyful architecture that responds to a wider cultural and environmental context.
The students were tasked with speculating on how to apply the compact principles inherent in the tiny home movement, small footprint sustainability and an alternative to the modern debt-based society, across a larger and more complex global-wide proposal. The projects aimed to address London's housing shortage specifically. 
Find out more about the Masters in Architecture (MArch) (RIBA Pt II) at the University of Westminster.