He received the award at a presentation ceremony for postgraduates of the University's School of Media, Arts and Design at London's Southbank centre.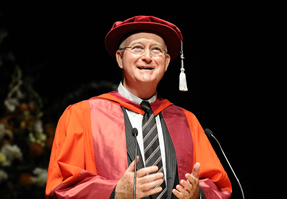 Addressing postgraduates, their family and friends, Lord Birt (pictured at the ceremony) said that although he had received honorary degrees before, "none of them means as much as this one".
"The University of Westminster is a pioneer of serious academic study of the media," he said. "It covers the whole spectrum of media studies, from the theory through to the practice."
He added that although media industries faced challenges because of the current world recession, he was "envious" of those graduating now to begin a career in media, arts and design.
"The media has never been so exciting – you are the lucky ones," he told his audience.
Introducing Lord Birt, Sally Feldman, dean of the School of Media, Arts and Design – and a former editor of BBC Radio 4's Woman's Hour - said he had left a "remarkable legacy" at the BBC.
"His now infamous 'Producer's Choice' policy convinced people that the BBC represented value for money, and it was at his insistence that the Corporation took such a strong lead in the digital era," she said.
ENDS