Doctoral researchers Nadeen Solaiman and Ahmed Sidali from the School of Life Sciences presented their novel findings on DNA damage and cancer at the prestigious international 14th Charles Rodolphe Brupbacher Symposium 2019.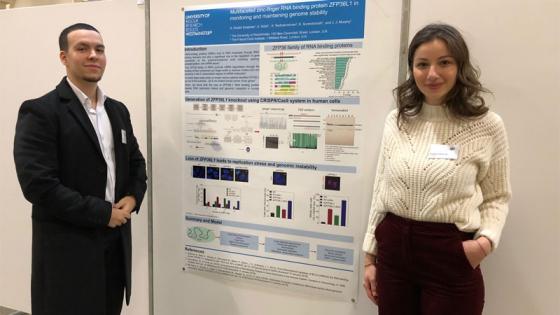 The researchers' work, focused on utilizing CRISPR human genome engineering in characterising cancer driver genes and identifying new therapeutic targets, involves collaborations with the Francis Crick Institute and the University of Zurich. The findings presented were based on the investigation of roles of a recently identified human breast cancer driver gene in DNA damage response and tumour development.

Project supervisors Dr Kalpana Surendranath and Dr John Murphy, said: "This is the first time a CRISPR related work is presented from the University, it is a privilege to be pioneers of this revolutionising technology at the University of Westminster.

"The symposium enabled us to present cutting edge work to leading clinical and basic researchers in the world. The presentation was well received by the delegates and the students made contacts that will certainly be useful in generating high impact publications and in future career opportunities."

The symposium took place between 30 January and 1 February in ETH Zurich, Switzerland, and dealt with "Breakthroughs in cancer discovery and therapy". Hosted by the Charles Rodolphe Brupbacher Foundation, it aims to support and foster cancer research in Switzerland and internationally.

The 14th Charles Rodolphe Brupbacher Symposium included talks from international speakers and covered topics around cancer research such as tumour cell heterogeneity, cancer epidemiology, targeting signalling pathways and the microenvironment.

Find out more about the Research Degrees offered at the University of Westminster.