The award, run by Oxford University Press together with the Society of Biology and Heads of University Biosciences, seeks to identify the UK's leading bioscience higher education teachers in recognition of the invaluable role they play in education.
The nomination recognises Dr Clement's teaching practice in technology-enhanced learning and student co-creation. He is the bioscience lead on the Broad Vision art/science research and learning programme at the University, which provides a platform for students and academics from a range of arts and science disciplines to engage with collaborative research projects.
Dr Clements is also exploring how tablet devices can be used to support student co-creation approaches inside and outside of the classroom. Other achievements include his contribution to a series of Jisc-funded Making Assessment Count projects designed to help students make more effective use of their assessment feedback.
Dr Clements, who is also Senior Fellow of the Higher Education Academy, is responsible for the strategic development of teaching in the Faculty of Science and Technology. With 10 years of teaching experience in the biosciences, he teaches on a range of courses in biotechnology, stem cell biology, microbiology, molecular biology and ethics. His research interests lie in the field of stem cell biology and microbiology, currently working on the role of cancer stem cells in the development of osteosarcoma.
Dr Clements said: "It's fantastic to be shortlisted for this highly regarded award. It provides opportunity to showcase some of the innovative learning approaches we use at the University of Westminster, particularly in the area of co-creation and art/science interdisciplinary learning."
Rachel Lambert-Forsyth, Director of Education and Training at the Society of Biology said: "This year's award yet again highlights the invaluable role played by teachers in higher education. The shortlisted individuals displayed a dedicated commitment to student learning through their outstanding, innovative and research-based teaching. Congratulations to the four finalists who each play such a vital role in inspiring and educating the next generation of biologists."
The overall winner will be announced at the Heads of University Biosciences Spring Meeting on 6–7 April 2015.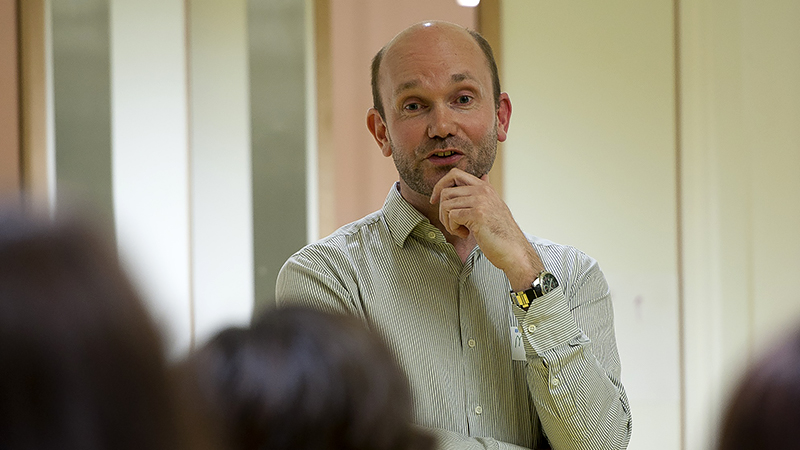 Dr Clements discussing art/science collaboration at a Broad Vision symposium. Photo © Moacir Lopes.
About the Faculty of Science and Technology
The Faculty of Science and Technology has a thriving research culture, with more than 30 students registered for PhDs. Our active research and postgraduate programmes also ensure that undergraduate students are in close contact with cutting-edge applied scientific knowledge. The needs of our students are our highest priority. Our courses prepare students for professional working life, and provide graduates with technical knowledge and practical skills that meet the needs of industry, research or further study.