Mariyam Naufa, a Law LLB student, was recently given the Outstanding Academic Achievement Award by Aspiring Solicitors, as well as being a recipient of the 2018 and 2019 Westminster Excellence Award for her exceptional academic performance.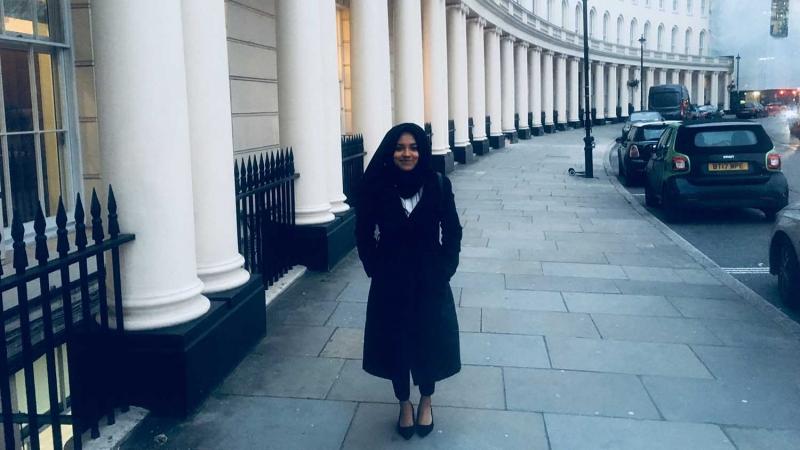 Mariyam is a third-year student and has achieved a first-class average over her first and second years at University. She was commended by Aspiring Solicitors for scoring a 90 per cent in the essay she wrote for her Equity and Trust exam.
Talking about her achievement, she said: "It is the fruit of much hard work and dedication, only made possible with a lot of help from my parents and loved ones. Thank you also to the Law School for all the unwavering support and a very special thanks to Aspiring Solicitors."
As an international student, she only moved to the UK in 2016 but has already volunteered at the Westminster Student Law Clinic and her local charity bookshop, as well as worked part-time alongside her studies.
In January 2018, she was awarded the Westminster Excellence Award by the College of Liberal Arts and Sciences, a commandment given to the highest achieving students at Level 4 or 5 on each course to honour their hard work. She will receive the award for the second time in a ceremony on 28 January.
Jeanette Nicholas, Assistant Head of Westminster Law School, said: "Mariyam is an outstanding student, who arrived at Westminster Law School on a full fee scholarship in recognition of her potential. She has more than shown her early promise, by earning a Westminster Excellence Award and now an Aspiring Solicitors Award for Outstanding Academic Achievement. We congratulate Mariyam for her achievements and look forward to news of her future accomplishments."
Set up in 2013, Aspiring Solicitors is a UK-based organisation that aims to promote diversity in the legal sector in partnership with over 26 law firms and legal teams. They provide underrepresented students with access to law firms, personalised assistance and the opportunity to improve their commercial awareness through their Commercial Awareness Competition.
Find out more about the Law LLB course offered at the University of Westminster.