The event, hosted at the University's Little Titchfield Street campus on Tuesday 2 April, covered the idea that pitching yourself and your ideas is essential, and was part of the 'What it Takes' event series.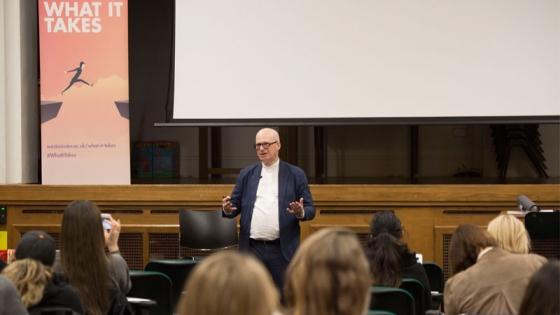 In his talk, Roger gave advice on what it really takes to pitch your way to success. He gave an insight into getting work experience while studying and securing early career roles as well as how important pitching is and how to do it well. He also explained the psychology and practical techniques behind it.
Talking about selling yourself, Roger said: "Your credentials are not important to your audience. What is important to your audience is empathy, it is the feeling that you are on their side."
The talk was followed by a Q&A session and informal networking and refreshments, where attendees had the opportunity to get a copy of Roger's international bestseller 'Life's a Pitch' and his latest book 'How to Steal Fire', published in March 2019.
Roger Mavity, a Westminster Photographic Studies MA graduate, is an author and business speaker who has run his own advertising agency and was CEO of Granada Group's leisure division where he led the pitch for the company's takeover of the Forte Group.
He has three books published and three more on the way, and since 2013 has concentrated on writing and photography. His artworks have been exhibited in London, Paris, Brussels, Ghent and Amsterdam. He is also a trustee of Pallant House Gallery in Chichester.