The largest ever exhibition devoted to menswear Invisible Men: An Anthology from the Westminster Menswear Archive premiers today at Ambika P3 at the University's Marylebone Campus.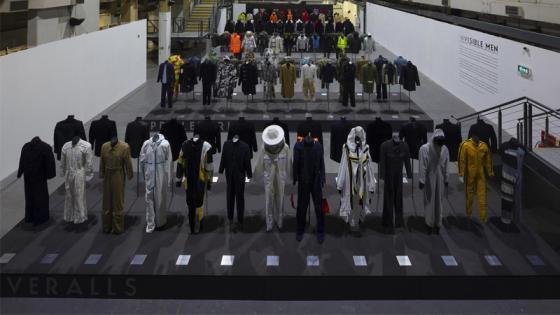 Curated by Professor Andrew Groves and Dr Danielle Sprecher, Invisible Men showcases 167 garments from over 50 different designers, the vast majority of which have never been on display before. The exhibition includes previously unseen examples of Alexander McQueen's early menswear in a section devoted to his work.
The show covers a range of garments including sportswear, tailoring, uniforms and workwear, which aims to redress the balance in fashion exhibitions that usually solely focus on the display of womenswear.
More contemporary designers featured in the exhibition include Craig Green, the current menswear Designer of the Year and Samuel Ross, whose label A-COLD-WALL* won the BFC/GQ Designer Menswear Fund award in June.
A section of the exhibition is devoted to wearable technology, including an example from the world's first Graphene coated jacket and a solar-powered trenchcoat designed by Junya Watanabe. A section is also devoted to C.P. Company's Urban Protection from the late 1990s includes garments that inflate, light up, detect toxic gas and turn into chairs.
Alongside the designer garments, there are examples of British workwear that cover the last 100 years including prison uniforms, a police taser suit and military camouflage, pieces that highlight how influential utilitarian workwear and uniform have been inspiring fashion designers to create new fashion. 
Speaking about the exhibition, co-curator of Invisible Men Professor Andrew Groves said: "We are thrilled to be able to display a selection of McQueen's early menswear covering the years from 1997 to 1999 within the exhibition. 
"There were no examples of McQueen's menswear included in the V&A's Savage Beauty exhibition, so this is the first chance for the public to see his early menswear designs. They will be able to study the exceptional tailoring skills that he learnt on Savile Row – these were the skills that informed the radical womenswear he was creating during the same period."
The exhibition has been commended by a number of designers, including the President of C.P. Company Lorenzo Osti, Managing Director of Dege & Skinner William Skinner and Italo Zucchelli.
Find out more about the Invisible Men exhibition.
Learn more about the fashion courses offered at the University of Westminster.