Working for European Mobile Labs and Public Health England, Babak landed on 1 February in Guinea and spent five weeks in Coyah, helping in the international fight against the Ebola virus. Having spent just ten days in the UK after his return, he is now back on another three-month mission in West Africa helping with the WHO efforts in Guinea. During his short time at home, he visited the University to share his experiences with us.
How did you decide to go to Guinea to take part in the fight against the Ebola outbreak?
Public Health England is a member of the European Mobile Lab Consortium. They have developed a laboratory that packs in suitcases. The purpose of the European Mobile Lab is to do rapid diagnostics which will help clinicians to separate the patients as soon as possible because, for example, Ebola is a highly transmissible and horrible virus and at the moment there is no treatment for it.
If the WHO announces that there is an outbreak, the European Mobile Lab and different charities support them by getting the workforce together. So our Head of Department was looking for people with specific skills to go out on the field and I volunteered. I had the skills and there was a need for that. I went to training for a week in Munich with the German army which developed the Lab with collaboration with other partners. More specifically, the European Mobile Lab is a European consortium, dedicated to capacity building in terms of diagnostics for infectious disease outbreaks in Africa and operates under WHO-GOARN. The European Mobile Lab project is coordinated by the Bernhard-Nocht-Institute for Tropical Medicine and the technical implementation is by the Bundeswehr Institute for Microbiology.
What did you do in Guinea?
We were in Coyah, which at the moment is the epicentre of the outbreak in Guinea. Coyah is a collection of isolated villages. When we started, the closest diagnostic facility was in the capital of Guinea, Conakry, which was around two hours from Coyah. We got some samples in the morning, some at midday and some in the afternoon. We started around 7.30am and we were in the lab until around 8.30-9pm every day. The process to achieve results for each sample took about 3.5 hours.
How does the process of checking the samples look like?
We get the blood samples – these are all double packed. Then we wash the outer container with bleach and we inactivate the virus in a containment box that is under negative pressure. So the virus would no longer be infective but the genetic material is still available. Once we have inactivated the material, we extract the RNA and then we perform quantitative polymerase chain reaction (PCR) that tells if the sample is positive for Ebola.
How did it affect you on a personal level that you could catch the virus?
That's always a thought that's lingering on the back of your mind but we are quite confident in the training and our capabilities that we develop over time. Moreover the specific training, protocols and equipment makes the work very safe. And it's our job so we have got to do our jobs. When you are out there on the field and you realise what the local people are going through... Hopefully our work is not in vain.
What was food and accommodation like for you in Coyah?
We were the first team in Coyah and it was a challenge to organise accommodation after a long day of work. You just want to go home and have your pot noodles but without electricity and tap water it's difficult. We had bottled water so you could brush your teeth. Some nights we just had sleeping bags and tents. Malaria is a big problem there and we had the mosquitoes that come up at dusk and dawn, and we were effectively their dinner. Eventually they found a house for us that wasn't complete yet, so they had to sort out the electricity, the water and the plumbing that took about ten days. Eventually we had our individual rooms, without beds initially, but slowly-slowly it's getting there.
We had our lunch outside the lab. They were very nice because they built us this little extension outside the lab where we could sit and have our lunch. You could get avocados, bread, chicken, fish and rice with different sauces. But it took some time for your body to adapt to the food out there. But once you get used to it, it's not too bad. They were very accommodating because they valued the work we were doing.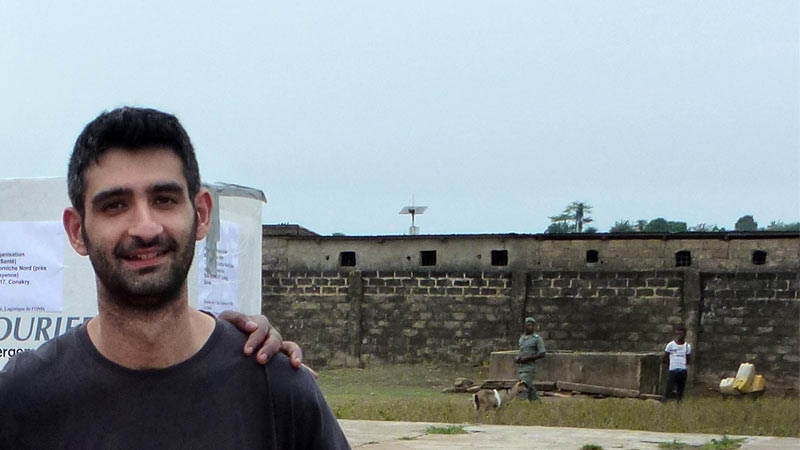 What were the biggest challenges?
The hardest part is doing long hours and having to be very focused on every sample that you process and working continuously for long hours makes this particularly challenging. There were times when it got really hard but we always knew that we were all in it together and that made it a lot easier. Remarkably we all stayed motivated until the end. Our energy tank was always full. I think it is because of the environment we were working in. When there is real humanitarian work required, it's wonderful to see all these nations coming together. You meet different people, different backgrounds and different skills and every day is interesting. It's really fulfilling.
What was your most touching experience?
The best part of it was seeing patients who had recovered knowing that the lab and the treatment centre helped. There is little chance of survival without these. So seeing that someone walks away from that experience with a chance to get back to their family and get back to their life was particularly rewarding.
How did your studies at Westminster help you when you were out on the field?
I was made into a scientist at the University of Westminster. I was here as an undergraduate and stayed on to do a PhD so my scientific background mostly comes from Westminster. Everything I developed after that was built on the foundation that I learnt here. So it helped immensely.
What would you tell someone who is thinking of going to West Africa to volunteer?
I would definitely encourage it. If someone is interested, I would suggest getting in touch with the EMLab coordination, WHO, the charities working out there or Public Health England. There are all sorts of jobs out there that need doing. There are people volunteering from universities as well. People do not necessarily come from a lab background. You could help with contact tracing by handling data and the United Nations needs lots of drivers because the locations are not close to anywhere, logisticians or people with multilingual skills who can help coordinate the jobs– there are a whole range of roles and it's not just for biomedical scientists and clinicians. All sorts of people from all sorts of walks of life come together to control this outbreak. It's hard but it's something worth doing.
After completing his Biotechnology BSc degree in the University of Westminster's Department of Biomedical Sciences in 2004, Babak remained a PhD student at the University under Dr Pamela Greenwell and Dr Miriam Dwek until 2008 researching a specific area of biochemistry called glycobiology. After subsequently continuing his scientific career as a postdoctoral researcher in the Against Breast Cancer Research Unit at University College London that later moved to the University of Westminster, he has been a virology research scientists at Public Health England since 2013.
The EMLab is a European consortium, dedicated to capacity building in terms of diagnostics for infectious disease outbreaks in Africa operating under WHO-GOAN focusing on diagnostics. The project is coordinated by the Bernhard-Nocht-Institute for Tropical Medicine and the technical implementation is by the Bundeswehr Institute for Microbiology.