From 20-28 April, 14 Westminster undergraduate students had the chance to explore the professional environment of Shanghai as part of the inaugural Westminster Working Cultures programme.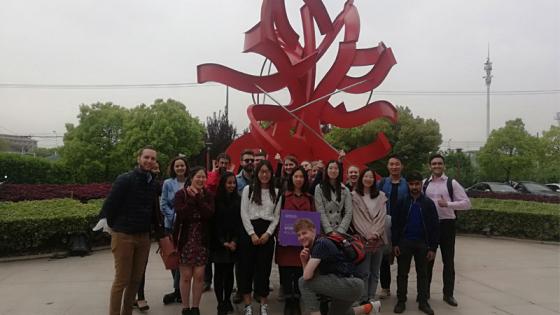 Throughout their week in Shanghai, the students met with a number of Westminster alumni and learned about a range of professional environments from media to entrepreneurship to interpreting and translation. They received excellent advice on how to enhance the skills they will need after they graduate and an insight into the innovative business culture in China.
During the trip, the group visited Imagination Education Inc., a well-known education company in China, to meet with founder and Westminster graduate Kevin Bao who graduated with a Master's in Business Information Technology. As an entrepreneur, Kevin shared how he has successfully navigated the business landscape and impressed upon the students the importance of sticking to your principles and surrounding yourself with others who share your passion. Students also had the opportunity to hear from a range of professionals in the company who spoke about the education and English language sector as well as what life is like in Shanghai. 
Westminster Chinese with French BA alumnus, Vincent Schoofs, Partner – Director of luxury events agency 'What If', spoke to the students about the creative sector in Shanghai, how to get into the industry and offered advice on what to bring with you to an interview. He also shared his experience living as an expat in Shanghai and acclimating to life in a different country.
Highlights of the trip also included an insight into how the FCO works in China and navigates relationships on a country level with a visit to the British Consulate, a visit to one of China's largest media and cultural conglomerates, Shanghai Media Group (SMG), and a networking opportunity at an alumni event with local graduates.
Biomedical Sciences BA student, Emily Lim said: "Being an employable graduate in the working world means being able to show you have passion, drive and confidence for the field that you are working in. This trip has inspired me to open up more to taking risks and making calculated decisions that I otherwise wouldn't have made in the first place. I am more likely to work abroad now that this trip has concluded and I will be more prepared for it in terms of adapting to new cultures, new environments and expectations and going out in the working world with a better attitude and a better vision for myself."
This trip was made possible by the generous funding support from The Quintin Hogg Trust. The visit was led by senior members of the Development and Alumni teams and the Careers Employability Service. 
Speaking about the trip, Professor Alex Hughes, Deputy Vice–Chancellor for Global Engagement, said: "Our Westminster Working Cultures programme is going from strength to strength, and we are delighted at the range of experiences of professional life across the globe that it enables our students to enjoy. We are immensely grateful to everyone who supports the programme and excited by its new global destinations."
The next trips in the Westminster Working Cultures programme include Berlin, Washington DC and a new trip to Dubai. With students from 165 countries, staff from across the world and a highly international alumni community, the University of Westminster embraces global engagement in all its forms.
We have a rich mix of international partnerships in over 20 countries worldwide and place particular emphasis on providing international opportunities for our students. Our research addresses global themes and is sustained by international collaborations. We are an international institution, located in the heart of London.