From 16-21 June, 27 Westminster undergraduate students had the chance to explore the professional environment of Berlin as part of the inaugural Westminster Working Cultures programme there.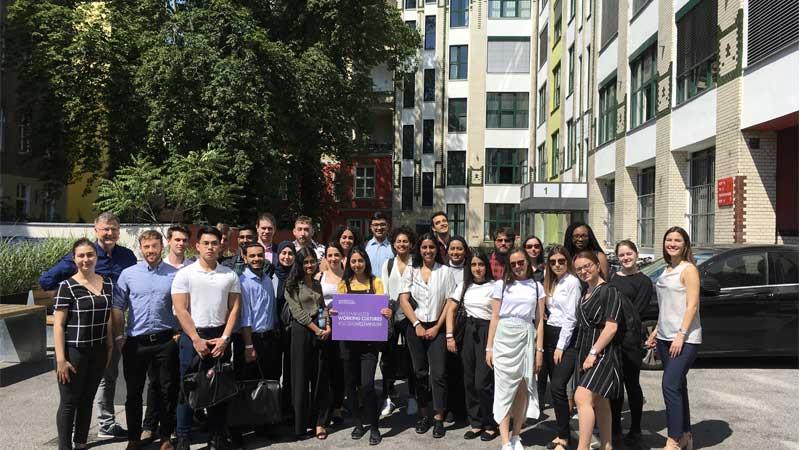 Throughout their time in Berlin, the students met with a number of University partners and Westminster alumni and learned about a range of professional environments from media to entrepreneurship to working at a multinational company. They received excellent advice on how to enhance the skills they will need after they graduate and gained an insight into the innovative creative and business culture in Berlin.
This trip was made possible by the generous funding support from Santander Universities and The Quintin Hogg Trust. The visit was led by members of the Development, Alumni and International teams at the University. 
The group participated in a meaningful discussion with Santander and Santander Universities about the working environment in Germany, the differences in cultural interactions, what it is like to work for a big, multinational company. They had the opportunity to ask HR professionals how to get their foot in the door and what recruiters and hiring managers look for in a candidate.
Macromedia University of Applied Sciences, a key University partner, hosted the students and opened their minds to the creative side of education and Berlin. The group sat in on various lectures, interacted with local students and tried their hand at live drawing, really pushing them to think in a different way. Whilst at Macromedia, The University's Vice-Chancellor Dr Peter Bonfield, who was also in Berlin at the time, gave sound advice on making the most of the international opportunity as it would be a great experience to put on their CVs and use in interviews. He also encouraged them to be curious and appreciated how well the students were representing the University.
Highlights of the trip also included a visit to BECYCLE, Berlin's first spinning studio, which was opened by Economics for Business BA 2005 graduate Gundula Cöllen. Students had the chance to learn about the jazz culture in Berlin and had the opportunity to meet local Westminster graduates at a Jazz Club.
Law BA student Jenny Sacaj said about the trip: "One of the things that was common amongst the speakers is that despite their current position and successes, they were very open to talking about their hardships. The founder of BECYCLE, Gundula, was particularly open about her journey. Her talk about her business based on her fitness passion and how she's going about the finances, publicity, competition and the quality of her brand simultaneously, and on her own, is extremely motivational and quite reassuring. It highlighted that we as individuals can accomplish anything if we have the confidence and really put the effort in."
Speaking about the trip, Professor Alex Hughes, Deputy Vice–Chancellor for Global Engagement, also said: "Westminster Working Cultures offers students the unique, intensive opportunity to experience and learn from professional life in a world city. Our students learn so much during their visits and we are immensely grateful to all who support them."
The next trips in the Westminster Working Cultures programme include Washington DC, Hong Kong and a new trip to Dubai in September. With students from 165 countries, staff from across the world and a highly international alumni community, the University of Westminster embraces global engagement in all its forms.
We have a rich mix of international partnerships in over 20 countries worldwide and place particular emphasis on providing international opportunities for our students. Our research addresses global themes and is sustained by international collaborations. We are an international institution, located in the heart of London.