Westminster graduate Jon Woodburn has been appointed to a research and policy internship at the Royal Statistical Society, after graduating from the History and Politics BA Honours course.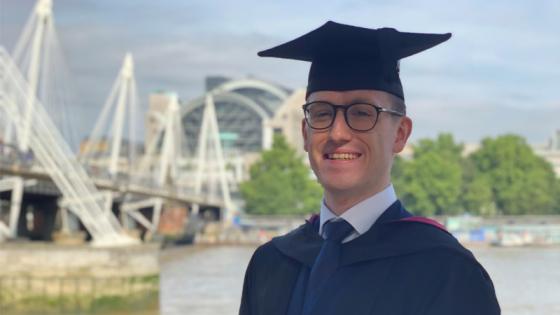 Jon started the internship by applying through the Santander University Scheme. He received a Gold Westminster Employability Award, the process of which helped him prepare his CV and interview skills for the upcoming stages. 
Jon took full advantage of his time at the University and its careers resources. He said: "I am duly grateful to Westminster for stressing the importance on learning employability skills throughout my three year course. I also took part in the Westminster Working Cultures trip to Mumbai, understanding the importance in working with other cultures while embracing the new experiences they provide. This has most definitely helped me work in the diverse working environment the Royal Statistical Society is."
The Royal Statistical Society is one of the world's leading organisations that promote the importance of statistics and data. They work to ensure policy formulation and decision making are informed by evidence for the public good. As part of the internship, Jon has learned how to write a policy report and collect information from various sources. These reports have been used in select committees around government.
Professor Pippa Catterall, who lectures on the History and Politics BA Honours course, said of the internship: "I'm delighted that for the third year running the external relations team at the Royal Statistical Society have offered an internship to a Westminster graduate in History and Politics. The RSS does a great job in highlighting the use and misuse of statistics in politics and policy. Past interns have had a wide range of roles from supporting campaigns to running the RSS statistic of the year competition. They have also gone on to exciting positions in related fields, so this is a great opportunity for Jon."
The internship has led Jon to further employment at the Royal Statistical Society, saying: "I have been lucky enough to have just learnt that my contract will be extended until December and I have taken on the new role of Policy & External Affairs Assistant. My future of going into politics and possibly academia is all down to the wonderful opportunities Westminster have bestowed upon me. While I will always look to the future, Westminster will always remain a conscious and fond memory of my past."
Learn more about the History and Politics BA Honours course.
Find out more about Jon's experience of the Westminster Employability Award on the careers blog.