Graphic Communication Design BA Honours student Shivali Patel won an award at the International Society of Typographic Designers (ISTD) Student Awards 2019 competition held on Friday 12 July.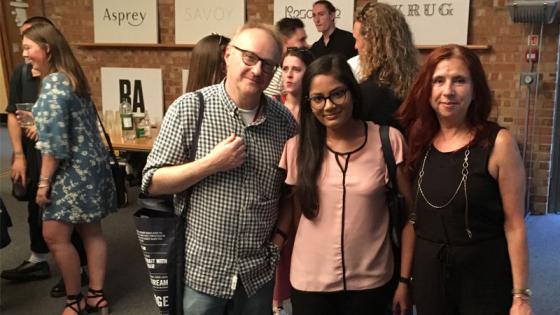 The ISTD is a professional body run by and for typographers, graphic communication designers, and educators. The society has an international membership and aims to establish and maintain standards of typography as well as to provide a forum for debate.
This year, Shivali Patel, a student from the Graphic Communication Design BA Honours course, won the prestigious ISTD award and became member of the professional organisation. This is the third time since 2016 that a Westminster student from the Graphic Communication Design BA Honours course has won this highly regarded industry award scheme.
Shivali took up the challenging intellectual task to design and interpret a key text of the modernist novel Ulysses by Irish writer James Joyce.
On Friday 12 July, over 100 finalists and prize-winning students attended the awards ceremony at the London headquarters of Pentagram Design, a famous international design company. Sascha Lobe, a renowned Pentagram Partner, congratulated and handed out certificates to the successful students.
Speaking about her awarded design, Shivali Patel said: "It was an honour to be awarded with an ISTD membership and a privilege to be welcomed into Pentagram design studio, London, for the awards evening.
"The Ulysses brief set by ISTD was a challenge that I had accepted. The monologue provided had to be recreated in a manner that will engage the audience and my response to this was to create an interactive publication. I am delighted that my work has been acknowledged by the organisation and thankful for the support by my tutors."
Senior Lecturer and module leader from the Graphic Communication Design BA Honours course Hans-Dieter Reichert also said: "This year's ISTD brief Ulysses by James Joyce provided a special challenge to the international design students. In the first instance, Shivali produced thorough research and a well-considered concept. Further on, her design solution showed an analytical, experimental and innovative outcome. This set the foundation to a highly detailed and intelligently handled design production. 
"The Graphic Communication Design BA Honours course and its staff, Senior Lecturers Iwona Abrams and theory tutors Katie Haye and Victoria Salmon are very proud that Shivali received the certificate and the professional ISTD membership."
Find out more about the Graphic Communication Design BA Honours course offered at the University of Westminster.