The business of Westminster alumna Manimekala Fuller, who graduated from the Fashion Design BA Honours course in 2018, has been selected as one of twelve businesses to enter the finals of the Santander Universities Entrepreneurship Awards.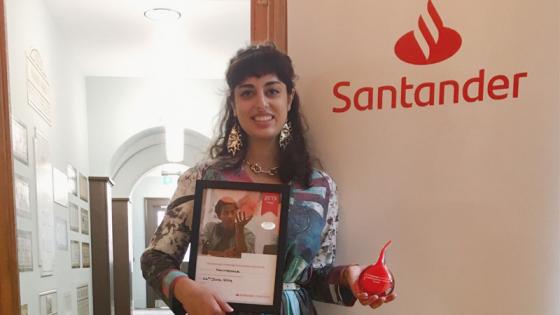 Manimekala entered the competition through the Creative Enterprise Centre's Venture Accelerator Programme – a structured 12-24 month programme of one-to-one coaching, mentoring, workshops and free workspace that supports students and graduates to register, scale and operate their businesses. 
Santander Universities Entrepreneurship Awards aims to support young entrepreneurs through their leading business competition, providing students and graduates with investment, mentoring and start-up support.
Twelve businesses were shortlisted from 60 semi-finalists to attend the national finals in October who are competing to receive one of two winning prizes of up to £25,000 seed funding and two runner up prizes of £15,000. Each of the winners will also receive a fully funded Santander intern. 
Following the evaluation of over 150 applications, Manimekala's namesake luxury fashion brand was selected as a finalist alongside eleven other businesses based on their forward-thinking entries. Manimekala's vibrant designs blend experimental textiles and processes to create pieces for those who dream of the future. The brand is committed to ethical responsibility with a 'zero waste' approach. 
Commenting on Manimekala's hard work, the Creative Enterprise Centre said: "We are so pleased to see Manimekela make it to the finals – a result due to her hard work, determination and belief in her brand. Manimekala is a great testament of the CEC Venture Accelerator Programme; since joining the programme through the Westminster Pop Up Project, she has utilised each of the resources and support provided and has significantly and visibly improved and developed her entrepreneurial aptitude, confidence and business model."
Matt Hutnell, Director of Santander Universities, said: "We're thrilled to announce the 12 finalists and we look forward to judging this year's most creative and innovative UK talent at the finals in October."
This year, Santander Universities have also announced their Startup Programme, an initiative that ensures that all applicants are offered support to grow their business.
Find out more about the Fashion Design BA Honours course offered at the University of Westminster and the Creative Enterprise Centre's Entrepreneurship Programme.