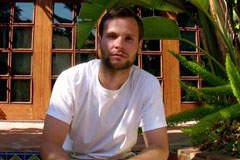 The 2004 graduate is going from music industry strength-to-strength with the news that a song he co-wrote for East London singer and actress Paloma Faith will be released in March. The song, 'Upside Down', is the latest in a list of high-profile tracks written by Shux.
The songwriter and musician also co-wrote and produced arguably the biggest hit song of 2009, Jay-Z's 'Empire State of Mind', a track which went onto become the number one single on the Billboard Hot 100 for four consecutive weeks.
Shux has been producing tracks for nearly 10 years. Before writing Jay-Z's first number one hit single, the 27 year old was asked by Lupe Fiasco to co-write and produce the track 'Hi-Definition' for Lupe's latest album, which also features Snoop Dogg. This album became an instant hit and sold over half a million copies.
He was also Lily Allen's guitarist and musical director, travelling with her to the US on her 2007 tour.
Shux is currently writing and producing UK artists such as Coco Summer, Rox and Eliza Doolitle.
The BA Commercial Music is the first of its kind in the UK. It covers music production, music business and the study of music as culture. It has strong links with major record labels, as well as a wide range of independent music and multimedia companies.
- Ends -