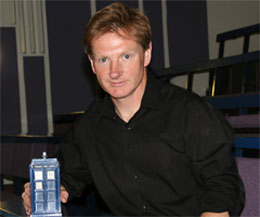 Doctor Trwoga, appears in a new Doctor Who DVD
Dr Trwoga was approached by the makers of the Doctor Who DVD featuring Tom Baker in the iconic lead role.
The story, called Meglos – first broadcast in 1980, uses the concept of entropy - the slow, irreversible process of breakdown and decay whereby a complex, organised system inevitably degrades into more chaotic ones.
Who better to explain this intricate theory – in such a short space of time - than an applied physicist and self-confessed Doctor Who fan.
Enter Dr Trwoga.
He explained: "Like many DVD extras the piece had to be made in under five minutes. Here was the dilemma, how to do justice to such a key concept in physics and set it in the context of season's stories, which features the ideas of entropy and decay.
"Entropy is a difficult concept to explain, on one level it is all common sense and practical thermodynamics but on the other hand it is rich and complex and its link to an arrow in time and the early universe is both fascinating and beguiling".
The process took Dr Trwoga three weeks to write and was eventually filmed in the Large Lecture Theatre in Cavendish House in about five hours.
Dr Trwoga even got to use a Doctor Who mug as part of the performance which also included a fridge from his own camper van.
He concluded: "I was actually extremely nervous after making it as I really wanted the piece to be both informative and accurate but also entertaining. However, I was very happy when the DVD came out this year and very pleased with the results which were a great showcase for the university".
You can watch Dr Trwoga as part of the DVD extra features on Doctor Who - Meglos which is available from BBCSHOP.com