Visiting Lecturer Dr Yara Sharif and Dr Nasser Golzari, the Course Leader of the Architecture MA course, will be curating an exhibition at the 2019 Chicago Architecture Biennial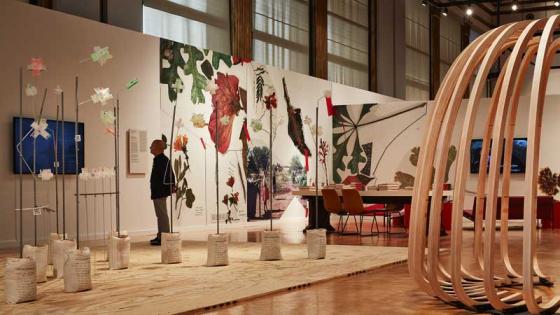 The exhibition is titled 'Secrets of a Digital Garden: 50 flowers, 50 villages' and is a digital garden with 50 interactive flowers representing 50 Palestinian villages. It is a way of exploring a new means to navigate the landscape of Palestine using digital fabrication and film.
The exhibition is in collaboration with Riwaq: Centre for Architectural Conservation, a non-profit organisation whose main aim is the protection and development of architectural heritage in Palestine.
The Chicago Architecture Biennial is an annual event held all over the city of Chicago from 19 September until 5 January. It entails over 100 cultural, civic and educational events with the world's leading architects, theorists and commentators. Their programme includes talks, workshops, performances and film screenings in order to explore and demonstrate the significance of architectural concepts in contemporary society. 
Both Dr Sharif and Dr Golzari are award-winning architects with an interest in design as a means to facilitate and empower 'forgotten' communities, while also interrogating the role of architecture politics and social commitment. 
Dr Sharif and Dr Golzari said about their exhibition: "We are very excited to be part of 2019 Chicago Architecture Biennial and join a fantastic team of contributors and curators. The collaborative work is unique in the way it is addressing the landscape through architecture and spatial interventions."
Their work has won the RIBA President's Award for Research amongst other awards. 
They added: "We feel very proud that the work is celebrating and sharing stories of forgotten villages and families from over 400 sites and that it will be shared with over half a million visitors in the course of 4 months."