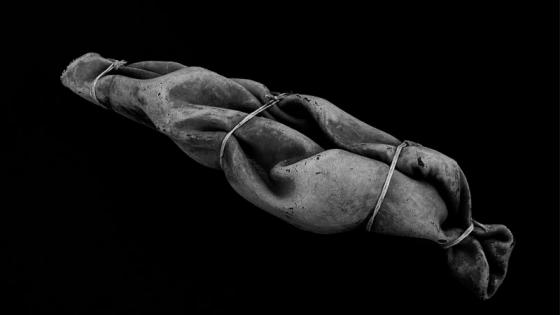 Sink Without Trace presents work produced by 17 artists focusing on migrant deaths at sea. It will include artists from a diverse range of countries, including Denmark, Eritrea, Ethiopia, Iraqi Kurdistan, Israel, Italy, Slovakia, South Africa, Syria and the UK. The exhibition will be held from 13 June to 13 July 2019, at the P21 Gallery in King's Cross.
Sink Without Trace offers unique, alternative perspectives on a subject that is often only presented through the eyes of the media and politicians. Visitors will be able to see paintings, drawings, photography, printmaking, sculpture and videography, as well as found objects from shipwrecked migrant boats in Sicily and works produced by unaccompanied minors in transit camps in Calais. In addition, a North African migrant boat will be on public display, close by to the gallery on Regent's Canal in King's Cross, during Refugee Week taking place from 17 to 23 June.
The exhibition will also present a public programme of events in collaboration with Counterpoints Arts, Refugee Week and the University of Westminster, including a range of artists' talks, a workshop with artist Shorsh Saleh and a symposium on Deaths at Sea: Migration and Art. Alongside this, Dr Mazzara's book, entitled: 'Reframing Migration: Lampedusa, Border Spectacle and Aesthetics of Subversion', will be launched during the first day of the exhibition on 13 June.
Speaking about co-curating this exhibition, Dr Mazzara said: "Sink Without Trace goes beyond the portrayal of migrant deaths at sea by the media and governments. The exhibition invites us to listen to the alternative perspectives offered by these artists and encourages debate and discussion on this extremely important and sensitive subject."
The exhibition will raise money for Alarm Phone, a hotline support network for people crossing the Mediterranean Sea into the EU.
Find out more about the exhibition funded by Arts Council England. 
Photo credits: Nikolaj Larsen