Organised in collaboration with Westminster alumnus and Founder of the Freelancer Club, Matt Dowling, the four to five-week long course includes workshops and talks for active and aspiring professional freelancers.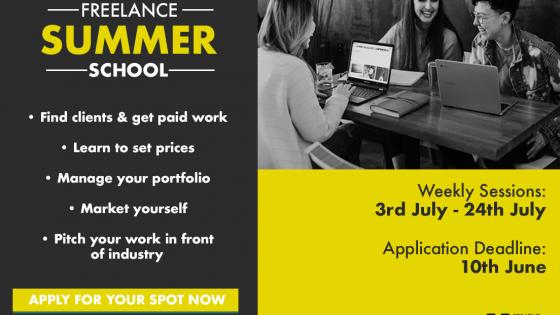 Applications for the course are open now, and only 12 participants who are actively pursuing professional freelance careers in any field will be selected to take part. They will learn, practically develop and build their freelance business as well as get a well-rounded understanding of the key aspects of working successfully and sustainably as a professional freelancer. 
The Manager of the Creative Enterprise Centre, Shiela Birungi, said: "The Freelance Summer School is an initiative to enhance the way in which the Creative Enterprise Centre supports student and graduate entrepreneurship – especially those seeking to leverage their specialised talents and taught skills to work independently as professional freelancers. 
"The majority of the focus around employability is often placed on the traditional career pathways or for students seeking to build a start-up; now we hope the course empowers participants to launch their freelance businesses and view professional freelancing as a viable career pathway."
The course will be delivered through talks, practical workshops, access to tailored resources and material, group discussions, individual and group feedback, one-to-one consultations and expert portfolio reviews. These activities will be based around branding, building a portfolio, collaborative work, marketing and wellbeing and resilience. 
Participants will create their own brand using visual branding identity, digital marketing tools, and additional work to include in their portfolio in order to use it as the foundation of their freelance business. They will be expected to undertake practical assignments in between sessions and will deliver a final presentation to industry guests and potential clients at the end of the course.
Organiser Matt Dowling said: "Succeeding as a freelancer requires a broad range of skills, a thick skin, some savings and a bit of luck. Not only does one have to be talented in one or more specialised areas, but they must also know how to run a business when not plying their trade.
"Freelance Summer School is taking a different approach. It will provide practical, hands-on learning from branding and marketing to sales and mental resilience. Everyone involved has years of real-life freelancing experience and will reveal what it takes to survive and thrive as a freelancer in today's competitive market."
The course is open to applicants who are University of Westminster current students in their second or final year or have graduated within two years of July 2019, actively pursuing a long-term professional freelance career (part-time or full-time) with examples of previous and current client work, registered with HMRC as self-employed, and available to attend all scheduled sessions starting 3 July at the University's Harrow Campus.
You can apply for the Summer School on the CEC website. The deadline is 17 June at 5pm, but applications will be reviewed and places allocated on a rolling basis, so early applications are strongly advised. For further information, you can contact the CEC.