Professor Joshua Oppenheimer and Professor Rosie Thomas have won a £600,000 funding bid from the Arts and Humanities Research Council for their documentary filmmaking project.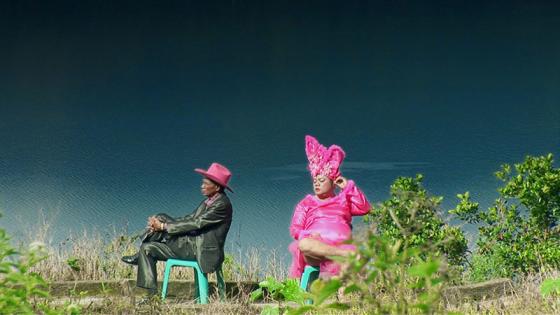 The Centre for Research and Education in Arts and Media (CREAM) has won a £600,000 funding bid from the Arts and Humanities Research Council for a three-year project 'Documentary of the Imagination', with Professor Joshua Oppenheimer as Principal Investigator and Professor Rosie Thomas as Co-Investigator.
This practice-led project will examine how the working methods that Joshua developed in Indonesia for his multi-award-winning films The Act of Killing (cover picture) and The Look of Silence may be transferred to and adapted in new cultural and political contexts in three different cultural and political settings.
Through a series of filmmaking workshops and symposia, the project will explore the different forms a 'documentary of the imagination' might take and the kind of histories that can be narrated through this method. Joshua and Rosie will document the research journey throughout and will share their findings through an interactive documentary (i-doc) and two books. The project will begin in January 2019.
Talking about his project, Professor Joshua Oppenheimer said: "I first came to the University of Westminster in 2007, when my co-investigator Rosie Thomas, together with Joram ten Brink, invited me to set up an AHRC-funded research project around my filmic exploration of genocide and impunity in Indonesia. My films The Act of Killing (2013) and The Look of Silence (2015) could never have been made without that support.
"I am delighted, and indeed moved, by the opportunity once again to develop new films together with Rosie and the AHRC and to explore how 'documentaries of the imagination' may be produced in different cultural and political contexts."
Professor Rosie Thomas said: "I am thrilled to have this opportunity to work with Joshua on such an exciting project, which will not only provide the groundwork for Joshua's next films but will also allow me to return to my long-standing interests in documentary practice and filmmaking ethnography and to share our findings with the wider academic and filmmaking communities. Joshua is now recognized as a major talent on the world stage and it will be a privilege to observe, at first hand, the early stages in the creation of his ground-breaking films."
Find out more about the Centre for Research and Education in Arts and Media at the University of Westminster.