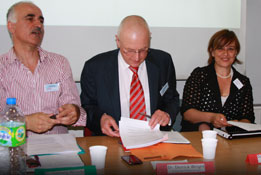 The joint conference at Westminster's Regent Street headquarters building saw academics taking part in a series of panel discussions on how globalisation and religion impact on issues such as education and women, tourism and development and inclusion and exclusion.
And there was also discussion with members of the Turkish community in the UK on widening participation in higher education.
The conference was latest result of a partnership established last year following an invitation from Kocaeli University's Professor Ismail Siriner to Westminster to participate in a conference on political economy.
Welcoming conference delegates, Westminster Vice-Chancellor Professor Geoffrey Petts said that the event marked "an important step" in the evolution of the relationship between the two universities.
Professor Sezer Sener Komsuoglu, Rector of Kocaeli University, said her institution was "very proud" to be involved in a partnership with Westminster. She said it formed part of an ongoing Turkish national strategy to forge ever-greater links with Europe.
Conference organiser Dr Farhang Morady, senior lecturer in globalisation and development within Westminster's School of Social Sciences, Humanities and Languages, said academics from both universities were already working together.
"There has already been significant work between the two institutions but this will be developed further. Turkey is a priority for the University of Westminster and this partnership promises to provide great scope for future collaboration.
"One particularly exciting area of work to develop will centre on looking at ways to widen participation in higher education among London's Turkish community," he added.