The new award aims to inspire creative, innovative and entrepreneurially-minded students at LAS to develop their business ideas. Ideas can be in any field or discipline, with social impact business ideas particularly encouraged.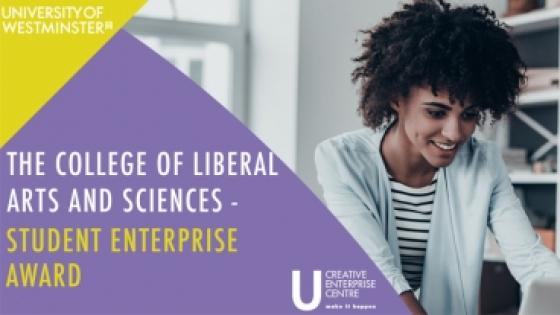 Social impact business ideas are considered as ventures which have an impact on communities or provide social services, although there are no restrictions on the types of business ideas you may develop.
Recognising and supporting students' start-up ventures, the award will be split into three prizes, each worth £500. One will be given to an undergraduate student, another one to a postgraduate and a final one to a project that demonstrates outstanding social impact.
To be in with the chance of winning £500 towards the development of their business idea, students need to complete the first three stages of the Student Enterprise Journey, engage with at least one enterprise competition, and successfully complete and submit a "pitch deck" and Social/Business Model Canvas on the Student Enterprise Journey.
All postgraduate and undergraduate students studying courses based within the College of Liberal Arts and Sciences are eligible for the prizes and all criteria must be completed by Wednesday 15 May 2019.
Winners of the prestigious award will be selected by the University's Creative Enterprise Centre and the Associate Head of College, and will also be announced at the Vice Chancellor's Awards Celebration at the end of the academic year.
The Westminster Student Enterprise Journey is an online five stage workflow that guides and aids all students and graduates to manage, monitor and take ownership of developing their enterprise and entrepreneurship skills. The Enterprise Journey also serves as a pathway for students to work towards starting their own businesses or working as a freelancer.
It is the first step and one-stop-shop to access: workshops, mentoring, freelance work opportunities, one to one business advice, business competitions and other free resources available to you across the University and beyond. The workflow functions as a tracking and monitoring tool; keeping a record of all engagement in enterprise and entrepreneurship related activities.
Students can also book a one-to-one business advice appointment for support developing their enterprise skills and business ideas and can email [email protected] for further information and guidance on the award and the Student Enterprise Journey.