Social change champion and Chair of the LGBT equality charity Stonewall Jan Gooding has been named Honorary Doctor of Letters at the University of Westminster's College of Liberal Arts and Sciences' 2019 graduation ceremony which took place on 8 July at London's Royal Festival Hall.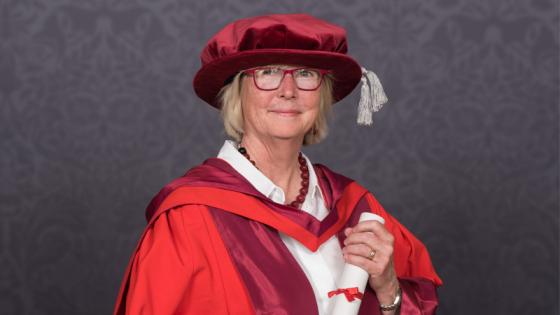 The University recognised Jan Gooding for her services to diversity and inclusion, and her commitment to championing social change.
Gooding is Chair of the Board of Trustees of LGBT equality charity Stonewall and was ranked 16th in the Top 100 Outstanding in Business list published in the Financial Times. She also chairs the Publishers Audience Measurement Company (PAMCo), the governing body which oversees the audience measurement for the published media industry, and is on the executive committee of Women in Advertising London (WACL), an influential club for senior women in UK Communications. Gooding is also the President of the Market Research Society.
She joined Aviva in 2008 as Marketing Operations Director before becoming Group Brand Director, ultimately leading the development of the "Good Thinking" campaign which launched in the UK in early 2016.
In January 2017, Gooding began a new role as Global Inclusion Director at Aviva, spearheading the company's commitment to fostering a more inclusive culture and ultimately more diverse workplace across the group.
Over a 30 year career, Gooding has also worked for British Gas and BT, and she has been managing partner of two successful marketing consultancies, Antennae and BLUEdOOR. 
She holds an MA in Economics from Girton College, Cambridge.
In her acceptance speech, Jan Gooding said: "That you have successfully honed the skill of learning how to come to your own independent conclusion about issues is priceless. I am here to encourage you not only to know your own mind, but to speak it. To continue to observe and be critical of what you see around you, but as your sphere of influence grows to do something to change it."
Professor Andrew Linn, Head of College of Liberal Arts and Sciences, said: "Despite a sense that we have made progress, the statistics remain shocking. LGBT hate crimes increased by nearly 150% between 2014 and 2018.  Under Jan's oversight Stonewall has doubled its revenue and headcount, and it is clear that Stonewall is needed more than ever. Our University has been host of National Student Pride for the past five years, and it is a huge pleasure for us to be able to honour Jan in this way."