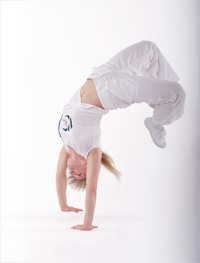 12 June 2011
Capoeira is a Brazilian art form with elements of martial art, dance, music and acrobatics. It was created through the desire for freedom over 400 years ago.
It is a great way of keeping fit, making new friends, finding balance in your life. It is for all, regardless of age, shape, and nationality.
Come and watch the event on 12th June at the Gymnasium and you'll see it for yourself. Students and performers are aged between 6 – 70 and are from various countries and backgrounds.
The event is organised by Capoeira Agora with support from the University of Westminster as part of the University's well-being agenda, along with local businesses interested in promoting well-being.
The event starts at 12:00 noon with the Capoeira Agora 1st Grading Ceremony (Batizado), followed by performances by the Capoeira Agora students and visiting Masters and teachers from Brazil, Spain, The Netherlands and UK.
More information can be found at www.capoeira-agora.com
FREE entry for University of Westminster staff and students. Please book your free entry by registering and have your staff/student card with you on the door. Additional tickets can be purchased via Capoeira Agora's online shop.
For more information, contact Justyna Jozefiak
[email protected]