On Friday 21 June, the Psychology at the Movies event series returned with a screening of the film 55 Steps, followed by an interactive panel discussion on psychological issues raised with cast and crew of the film.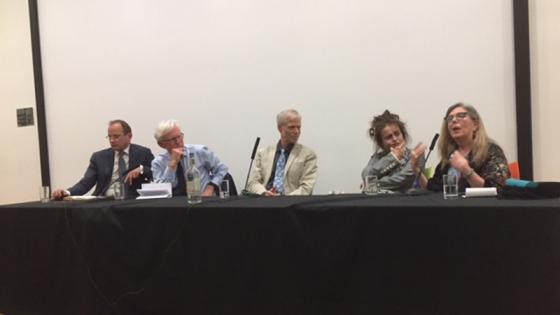 Based on a true case, 55 Steps tells the story of a workaholic lawyer who takes on an uphill legal battle to help a psychiatric patient sue a hospital for mistreating its patients. Set in San Francisco, the film stars Hilary Swank as Lawyer Colette Hughes and Helena Bonham Carter as psychiatric patient Eleanor Riese. 
The movie concerns the fight to have our basic human right to autonomy, particularly respecting the right to refuse psychiatric treatment if we are competent to make decisions for ourselves. However, the law in England and Wales still permits patients to be detained and medicated, regardless of whether we are competent to consent or not. 
With these issues in mind, the University hosted a screening and special panel discussion at the University's Little Titchfield Street Campus with Helena Bonham Carter CBE, Colette Hughes, the real Human Rights Lawyer portrayed in the film and Mark Bruce Rosin, Writer and Producer of 55 Steps. Professor Peter Kinderman from the University of Liverpool and former President of BPS, and Norman Lamb MP, former Health Minister, also joined the discussion as guest panellists.
Bryan Bonaparte, co-founder of Psychology at the Movies and organiser of the event in association with Peter Kinderman and Sara Tai, said about the event: "One of the objectives of Psychology at the Movies, is to use film to help facilitate discussion and positive changes in the perspectives of the human condition. This event brought together influencers from politics, the arts and human rights law to highlight important issues around mental health."
Psychology at the Movies events give students and the public the opportunity to see films from all times and discuss them from a psychological perspective. It also aims to involve the audience in discussion on issues raised in the films with the help of professionals from different fields such as psychologists, therapists, counsellors as well as directors and writers when available.
Find out more about the Department of Psychology at the University of Westminster.