Khadija Abdelhamid, a Business Management (Entrepreneurship) BA graduate, recently won the National Mentee of the Year award at the National Mentoring Awards for her progress as a mentee whilst studying at Westminster, when she developed her business Speak Dreams.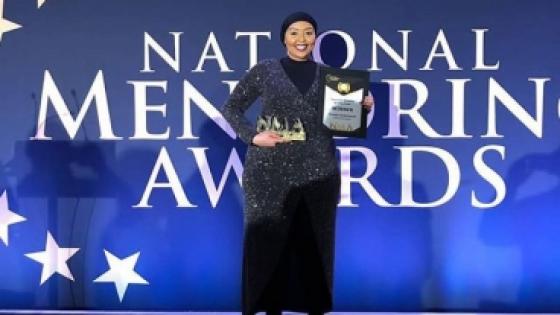 Khadija was nominated by Julian Hall, who mentored her during her time at Westminster to develop 'Speak Now or Forever Hold Your Dreams' or Speak Dreams for short. It is a networking platform for young people that lack the network and support to pursue their dreams and aims to inspire and motivate them, as well as give them the confidence to do it.
Speak Dreams provides young people with the opportunity to network with industry leaders, professionals, and other young people who are doing positive work in their communities to build their career and business skills.
Its aim is to create key partnerships for work experience, training, mentoring and career opportunities and has been officially recognised on a National Level because of the Business Management course.
Commenting on her achievement, Khadija said: "Winning National Mentee of the Year is a testament of how far I've come in both my personal and professional life. With the mentorship of Julian Hall of Ultra Education I've started my own social enterprise.
"To be recognised on a National Level means I am able to expand my professional network and provide young people from across the UK mentoring opportunities through my social enterprise Speak Dreams."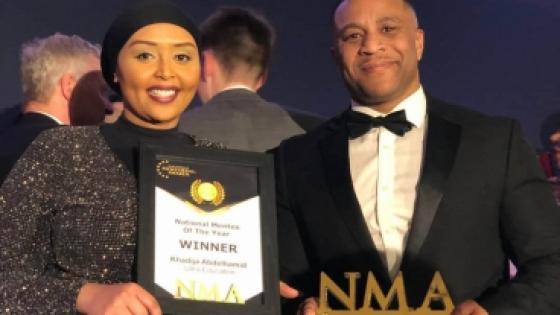 Her mentor Julian Hall is the founder of Ultra Education, a company that teaches entrepreneurship to young people. He added: "Khadija is an amazing young woman, she will keep striving and show the world what she is made of."
Passionate about youth engagement and social change, Khadija is an award-winning activist, entrepreneur, public speaker, YouTuber and spoken word artists. In May 2017, she hosted one of her networking events in Cavendish Campus.
The National Mentee of the Year award recognises an individual for their progress in their personal and/or their professional journey, their effort and their success achieved during their time as a mentee.
On its first time running, the National Mentoring Awards ceremony took place on Friday 1 March and gave public recognition for mentoring excellence to honour and celebrate individuals and organisations who mentor and create inspirational role models across sectors. It was hosted at Jumeirah Carlton Tower in Knightsbridge and included business leaders, key decision makers, MPs, top CEOs and mentors from all industries.
Find out more about the Business Management (Entrepreneurship) BA course offered at the University of Westminster.
Pictures credit: Mehaira Abdelhamid (m_photo.creations)