Final year BSc Building Surveying students had the opportunity to present their draft coursework proposals to a panel of professionals at The Crown Estate on Thursday 11 April.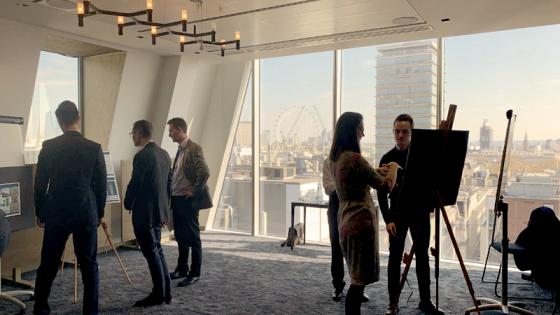 The coursework required students to put forward proposals for the sensitive adaptation of a historic building of their choosing. The buildings chosen by students included notable listed places that are currently used as libraries, museums, schools, pubs, churches and charity shops.
A team from The Crown Estate, together with historic building consultants from Donald Insall Associates, provided the students with constructive, formative feedback in the Board Room at the St. James's headquarters, giving them the chance to incorporate the expert input they received before their final submissions the following week. Examples of students' adaptations included changes of building use, works to improve disabled access, upgrading thermal performance and improving lighting.
Following the presentations, one panel member said: "I was impressed by the insight, confidence and maturity of all the students who presented and I am sure they all have great futures ahead of them, hopefully in working to preserve our amazing heritage buildings!"
This assessment was part of the course module entitled: 'Care and Adaptation of Buildings', led by Tony Burke and supported by Mark Ferguson. The module has a particular focus on heritage buildings and aims to promote a deep understanding of the principles of care and adaptive re-use of buildings, and the constraints within which such works are undertaken. The Building Surveying course is accredited by the Royal Institution of Chartered Surveyors and the Chartered Institute of Building.
Sharing his thoughts, Tony Burke said: "This partnership with The Crown Estate has enabled us to enhance the authenticity of the assessment that students undertake, and thereby further embed employability into our curriculum."
Find out more about the Building Surveying BSc Honours course on offer at Westminster.