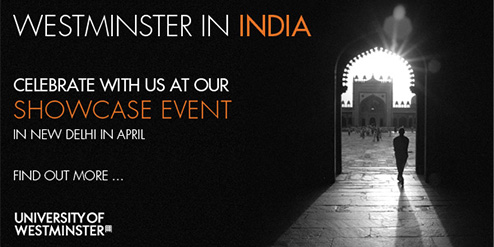 The University will be represented by a major delegation of senior staff looking forward to interacting with potential partners and alumni. The Pro-Vice Chancellor, Dr Myszka Guzkowska will be discussing the University's approach to working in India over the last five years, including:
Strategic partnerships and alliances in India including UKIERI partnerships
Indian based projects including the Univeristy of Westminster MBA Social Entrepreneurship studentship programme working with an NGO in Mumbai
The set up of a local team of staff in Delhi working for the University
There will also be a presentation outlining the University's vision for working with India which will include commitments to help the Indian economy grow through mutually synergistic relationships with Indian academia, industry, government and of course students and alumni.
The University aims to help India fill its skills gap by providing professionally relevant courses to students and finding them placements and graduate employment on their return to India.
Other speakers will include Her Highness, the Mahrani of Gwalior, who has kindly agreed to be the patron of our international scholarships scheme and will be making an exciting announcement about the University's intention to significantly increase the scholarships available to Indian students; Anupam Ganguly, a member of the University's Board of Governors and the Executive Director of the Arts Council, England, who will be talking about our India Media Centre, and Dr Vikram Mathur, Westminster's Head of Indian Alumni.
There will be further events focusing on opportunities for potential students at the University of Westminster including a seminar and panel discussion on Effective Career Planning featuring Dr VS Ravindram and senior staff from the University.
If you are a student, alumni, potential partner or are just interested in our work with India please do get in touch with our UK or India teams, or have a look at www.westminsterindia.in and our India site on facebook.
Notes to editors