Dr Manal Mohammed, Lecturer in Microbiology, recently appeared on the BBC News podcast 'Victoria Derbyshire' to discuss superbugs following the new plan unveiled by the government to fight the rise of drug resistance.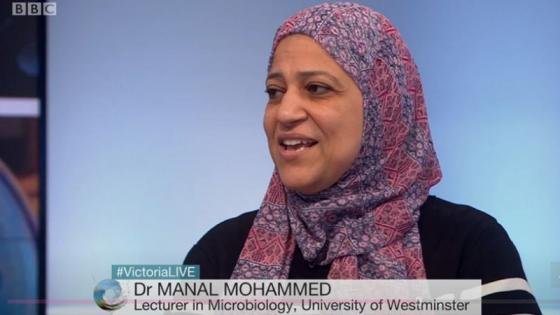 In her interview, Dr Mohammed first explained that Superbugs are bacteria that become resistant to antibiotics that used to be effective. She explained that these bacteria have developed resistance mechanisms because of the misuse and overuse of antibiotics.
When asked why there is no current treatment to tackle superbugs such as MRSA, Dr Mohammed explained: "The issue is linked to the misuse of the antibiotics. We overuse antibiotics not only for humans in clinical medicine but also in food, we use antibiotics as feed additives or growth promotor for animals from which we consume products. It is also very expensive at the moment to produce antibiotics. There is few antibiotics in the development pipeline however bacteria will develop resistance again if new antibiotics are misused."
Dr Mohammed's research focuses on developing bacteriophage therapy as an alternative to antibiotics for the treatment of superbugs and antibiotic resistant bacteria.
Listen to the full interview on BBC iPlayer from 37:10.